There's no denying that in the last few years, we've seen a veritable explosion of pen and display tablets from competing companies. At this stage in the competitive game, the hardest part for creatives has been figuring out what makes one tablet better or different than another at each budget level.
Well, XPPen may have just set a new bar level with the launch of their $599 Gen 2 Artist Pro 16 (and 14) inch display tablets by making them the world's first display tablet with 16,384 (16K) levels of pressure sensitivity.
According to the company, this new and improved level of pen pressure sensitivity will address the technical issues found when working with other tablets – issues of lag, latency, instability, and disconnections when working with heavier (or extremely light) pen strokes. This will allow for much finer line captures, smoother brush strokes, and a much faster responsiveness which the company claims has been improved by upwards of 20% (for the accuracy) and a 1.5x faster responsiveness.
XPPen Artist Pro 16 (Gen 2): Design and Build Quality
Out of the box, the XPPen Artist Pro 16 Gen 2 arguably improved the design quality over their previous models with a sleek and minimalistic design. Included in the box are the pen display itself, the wireless shortcut remote, a microfiber cleaning cloth, a drawing glove, the pen case with stylus and additional accessories (extra nibs, USB-A receiver, etc), quick start guide/warranty cards, and multiple USB-A/C cables and power adapters.
The tablet itself features a smooth metal back and the front has a rather large bezel (seems we keep moving back and forth between next to no or way too much on this front from generation to generation) but still offers a workable and fully laminated screen surface area of 13.57 inches (344.68 millimeters) x 8.48 inches (215.42 millimeters). Near the bottom of the tablet users will find a small wrist-rest sloped area for a little additional comfort should you use the tablet on a custom stand or lying flat. Also, since we're talking about hand-to-tablet information, it is worth noting that the XPPen Artist Pro 16 (gen 2) does not feature any touch controls.
On the top edge of the tablet users will find two buttons along the left-hand side. One for powering the tablet on and off, and the other for adjusting the brightness. Near the middle of this edge are the two recessed USB-C connections. The new tablet can operate off of a single USB-C cable provided it is a proper connection, but older devices that need to use a USB-C adapter will have to use the second port to connect to the provided power supply.
On the backside of the device, users will find a set of rubber feet to grip onto whatever desk/table surface they may find themselves working on, and as an added bonus, the rubber-coated strip along the top also unfolds from the left and right to provide users with a built-in kick-stand/feet to display the tablet at a much better angle for drawing on. Ideally, I'd like this to be a little more adjustable but it's much better than not having a stand at all. The good news is you can pick up a variety of adjustable stands from the XPPen web store should you prefer a different angle for viewing and working with the display tablet
The tablet itself is just 0.796 inches thick (20.23 millimeters) on its thickest (top) side and weighs a little over 3 pounds making it heavier than I was expecting, but still relatively lightweight for its size. Still though, given its larger bezel size, once placed on a surface you can pretty easily hand-hold the tablet to work on should you prefer that method.
XPPen Artist Pro 16 (Gen 2): The Pen
The pen for the Artist Pro 16 (Gen 2) comes with a pretty sleek-looking metal enclosure to keep all the little accessories like spare nibs and the USB dongle for the keypad safe while traveling. Out of the box, the pen has a plastic nib included so the drawing experience feels very smooth and similar to most other tablets on the market. If you want a more tactile pen-to-paper feel, users can switch out for the felt style nibs.
The case has a spring-loaded feel to get access to the inside of the case with the nib tool built right into the internal compartment, basically letting users treat the tool like a pen stand to remove and insert new nibs.
While the pen is comfortable and accurate, I have to say that this applies after you've run the calibration. And you should do this every time you connect and disconnect the device. I don't know if it was just my M1 Mac acting up as I do a lot of product testing which can cause some driver headaches between fresh resets, but each time I'd reconnect the tablet after putting it away, the pen would often be a bit out of alignment with where my curse was on the screen. The good news is the calibration tool (built into the XPPen Application) is a very fast and easy-to-run checkup that simply places crosshairs in the four corners and dead center of the screen for you to click. Once this is done your pen is insanely accurate right up to the very edges of the screen.
As I mentioned above, the new pen with this tablet features 16,384 levels of pressure sensitivity making it much more accurate for creatives. I think this feature is definitely more important for illustrators and animators than a retoucher, but even for me with photo retouching, the quality of the pressure sensitivity was definitely noticeable, allowing me to do much more precision edits without having to rely on manually adjusting my pen/brush size and opacity/flow levels every few seconds. More importantly, this stylus features an eraser on the back! Making it so much easier for creatives to quickly undo portions of a previous edit/brush stroke.
According to the company, the new pens have a response time of 90ms with an initial activation force of just 3g and a 0.6mm retraction distance (how much the nibs move inside of the pen housing). This was something I never really gave much attention to previously, but after reading about this feature I dug out my different tablets and their respective pens to find that the new XPPen Artist Pro 16 (Gen 2) pen does indeed have a better/tighter feeling pen nib. Meaning, when precision matters, this will definitely do the job better than most of the others.
XPPen Artist Pro 16 (Gen 2): The Shortcut Remote
Moving away from built-in buttons and attached pen holders, the Gen 2 tablet adds a new (optionally) wireless shortcut remote that gives users 10 programmable buttons and a rotating jog dial where users can program a custom layout of their most frequently used keyboard commands to help users stay focused instead of reaching for the keyboard when they are in their creative zones.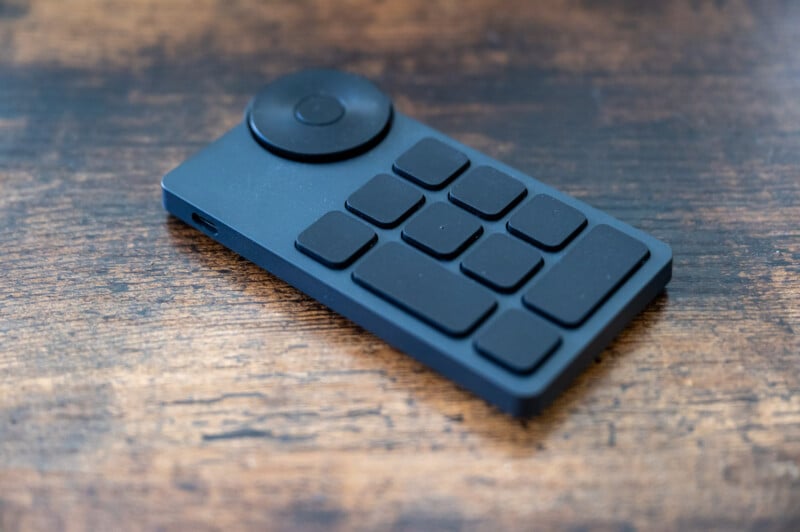 The software allows for four "modes" per application should you choose to customize your most used applications and settings yourself, all of which are easily navigated using the Pen-Tablet application from XPPen. Initially, you'll have to connect (and charge) the shortcut keypad using a USB-C cable, but once this is done you should get upwards of 300 hours of life out of it between recharging.
In addition to the button customization, the software allows users to set their preferred rotation of the keypad as well, giving them a smoother editing experience regardless of being left or right-handed.
XPPen Artist Pro 16 (Gen 2): The Display/Tablet
The display of the tablet gives users a nice 16:10 aspect ratio, 2560×1980 maximum resolution, and a 60Hz refresh rate with a working screen area of 13.57 inches x 8.48 inches making it a very comfortable working size for creatives to retouch or draw/illustrate on. The anti-glare surface was a nice touch as well keeping reflections and glare to a minimum when working in brighter environments (like with my overhead lamps).
The matte finish on the glass also helps keep any smudging and scuffs to a minimum (which is a big concern for people who've worked with tablets over extended periods of time). But, once again, XPPen has planned ahead and also built optional screen protectors for their various display tablets, giving users the freedom to use the tablets a lot rougher than they otherwise would while still keeping the life of the screen extended. They aren't expensive, but I do wish they would have at least included a single sample when purchasing the display tablet to prove its worth.
While on the topic of the matte-finished screen, while the impact is next to nothing, it's worth noting that there is a little bit of what I'd call a "film grain" effect on the resolution of your image. It's not really noticeable when working up close, but if you're sitting back from the screen and say, just using it as a second monitor for watching videos or web browsing, you'll definitely notice the "graininess".
The company reports the tablet has a 178-degree viewing angle and try as I might, there was only minimal color shifting even when lying down almost in line with the screen. Using the latest colorimeter from Datacolor to calibrate the screens, I found that the company's claims of a 99% sRGB coverage were indeed accurate, however, the Adobe RGB and P3 claims were significantly off with my tests reporting just a 75% coverage. Not necessarily a dealbreaker for most, but for working professionals who demand the best color accuracy in everything they do, this may not be the tablet for them. Since there's no gap between the glass and the LCD, there's absolutely no parallax and no breaks between the pen tip and the line on the screen.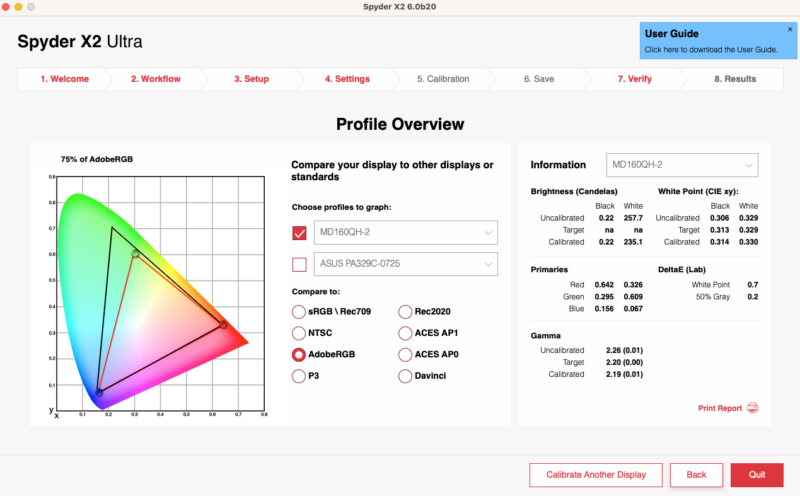 Finally, the display itself at max brightness only offers about 200-206 nits which isn't bad especially considering its affordable price point. It's definitely sufficient for working in a bright room.
XPPen Artist Pro 16 (Gen 2): Usage and Performance
The XPPen Artist Pro 16 (Gen 2) supports Windows 7 or later, macOS 10.10 or later, Android (USB3.1 DP1.2), Chrome OS 88 (or later), and reportedly even Linux. At the time of this review, I haven't officially tested it on Linux (using my Steam Deck) but I will try it soon and can update it if requested in the comments). Once you've installed the drivers, using the tablet is rather straightforward with the settings being pretty familiar to anyone who's used a pen or display tablet in the past. Users can adjust the mapped area of the screen as well as reposition the display in an order of their preference. This is also where you'll find the above-mentioned calibration tool for the pen, as well as where all the other settings for adjusting the pen and keypad controls are found.
Putting the combination of the wireless keypad, the more sensitive pen, and the tablet to work left me with a pretty satisfying experience. I loved the fact that the tablet had built-in legs giving me the freedom to work with it as a traditional tablet lying flat on my desk, or elevated using the legs on the back (and even hand-held). I retouched several wedding images using the tablet as well as some high-fashion work with some impressive and speedy results. Since I am no illustrator/painter, I can't really attest to how much better the 16k pressure is than all the other 8k style pens, but I can say honestly that the difference was at least noticeable and appreciated during my dodge and burn work, and even with tools such as liquify. I'm not sure why but I felt like the response and accuracy were much better using this tablet over some others I've recently tested. As you can see from the scribbles below, it actually is a lot easier to draw smooth and extremely thin lines/sections with very minimal pressure (just gravity), and it is wildly responsive with each extra level of pressure you apply.
I imagine someone who is a much better artist than myself would benefit greatly from the tablet's ability to transition from thick to thin lines and tapered brush strokes. Either way, even as just a lowly photo retoucher, the extra sensitivity was noticeable and useful and I experienced no jitter or wobbling other than from my own shaky hands. Also, as an added value to the tablet, if you're using a modern computer that supports power over the USB-C cable, you can use this tablet while on location. It's exactly portable like some other smaller tablets like the Wacom One, but you can very easily bring this with you to a coffee shop to work on, powered just by the USB-C connection from your laptop making it a far better and easier experience than previous generations of display tablets that require a display port/HDMI connection along with the USB-A/USB-C cables.
An Incredibly Accurate Drawing Experience At An Affordable Price
Honestly, other than the color accuracy, I've been having a hard time finding faults in many of the tablets that have come my way this past year. The XPPen Artist Pro 16 (Gen 2) seems to be a very fashionable and functional upgrade over its predecessor that offers users one of the most accurate pen-to-screen performances on the market. The only downside (other than the Adobe RGB and P3 color accuracy) is honestly the fact it doesn't include a screen protector, travel case, and/or additional adjustable stand. That being said, the tablet is pretty affordable, as are the optional accessories, so it's not a dealbreaker. I just wish there was an all-in-one sort of bundle to make the experience (especially for new users) a much easier one.
Either way, the customizable wireless keydial and premium and wildly accurate pen experience make this affordable tablet feel on the premium side, at least until you're ready to spend the big bucks.
Are There Alternatives?
There are a lot of options for creatives looking for alternative pen display tablets. Starting with the classic Wacom brand, we have the $399 Wacom One 12 Display Tablet, the $299 Wacom One 13.3″ Creative Display (without touch), and the $599.95 Wacom One 13 Touch Display. Jumping up to $799 for the Wacom Cintiq 16 Full HD tablet if you want to go into the slightly more professional level Wacom tablets.
With the alternative brands, users may want to consider the XPPen Artist 10 Gen 2 for $152, the Innovator 16 for $299, and the Artist Pro 16TP for $629. Additionally, Huion has the Kamvas 12 for $164, the Kamvas Pro 12 for $219, and the Kanvas Pro 13 for $369.
Then jumping up to the extremely professional level, there is the $3,500 Wacom Cintiq Pro 27 and the $1,899 Xence Labs Pen Display 24 which offer a much larger screen and color accurate display for the truly discerning creatives.
Should You Buy It?
Unless you are a working professional that demands absolute color and contrast perfection across each working space, the XPPen Artist Pro 16 is actually worth the investment at only $599. The tablet does cover 99% of the sRGB color space, which is more than enough for most users.