The classic professional photographer's kit has for decades consisted of the holy trinity of f/2.8 zoom lenses: a 16-35mm, 24-70mm, and 70-200mm. Armed with these, a photographer can cover almost any shooting situation. When Sony first started its full-frame mirrorless camera line, it quickly made these professional zoom lenses under the G Master moniker. Unfortunately, these lenses were not able to deliver the high-grade results that many of the other brands could.
Sony has recently updated its 24-70mm and 70-200mm lenses, making them much smaller and at the same time, much better optically. But what about the remaining zoom? Well, with the G Master 16-35mm f/2.8 II, Sony has completely updated its pro lens triumvirate.
Sony 16-35mm f/2.8 G Master II: Build Quality and Handling
One thing that the original lenses proved is that Sony can make rugged, reliable, weather-sealed lenses. But the originals were also fairly bulky and heavy by today's standards and the optical performance aged poorly. Sony made huge strides to reduce the size and weight of the 70-200mm and 24-70mm, and succeeded. The one lens that didn't really need to lose weight was the 16-35mm and yet Sony still found a way to shave off some excess grams: the new 16-35mm weighs only 19.3 ounces (547 grams). Although the difference is minor, when all three lenses are collectively weighed together in a camera bag, the weight savings are significant.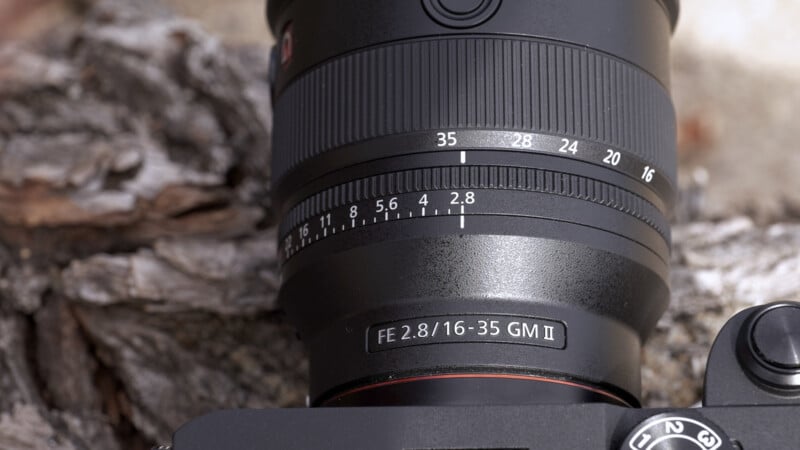 The manual focus ring still has a fairly sloppy feeling which is an unfortunate carry-over. However, the addition of a dedicated aperture control ring is a welcome change. Everything else feels tight and well-built. The body housing is of course weather-sealed against the elements, and overall the lens feels like a professional-grade zoom.
Sony 16-35mm f/2.8 G Master II: Flare and Sunstars
A 16-35mm lens is one commonly used for landscape applications and that often means contending with bright sunlight. Seeing as how I was photographing in a beautiful sunlit canyon, the first thing to test out was flare and sunstar performance. The G Master, with its excellent multi-coating technology, did a great job reducing any washed out flare across the frame. Contrast remained strong even with bright light shining directly into the lens.
Various obtrusive purple blobs were quite distinct, however. Even shooting at moderate apertures like f/8 caused distracting ghosting to appear. Fortunately, the sunstars created by the 16-35mm f/2.8 G Master II were decent: 22 fairly distinct points coupled with long streaks of light deliver a dramatic look when shooting at tight apertures.
Sony 16-35mm f/2.8 G Master II: Close-Up Versatility
The 16-35mm f/2.8 G Master II can provide some pleasing almost macro shots. You're only gonna get about four inches of working distance from the front of the lens but the 1:3 life-size macro reproduction is quite good for such a wide-angle optic.
Shading over your subject with the lens itself is a real hurdle sometimes but luckily the provided hood is quite shallow. This is a lens that can provide dramatically close shots, while really pushing the background far away. It's a nice feature that adds to the versatility of this lens.
Sony 16-35mm f/2.8 G Master II: Okay Bokeh
Being a bright professional lens with an f/2.8 aperture, I wanted to see what kind of character it would bring to the out-of-focus areas. By shooting wide-open and getting fairly close, shallow depth of field can be achieved. Specular highlights had a generally nice appearance with minimal cat's eye in the corners. Highlights are smooth and round with a subtle soap bubble effect.
The transitions from in-focus to out-of-focus areas are smooth and pleasing to the eye. I do feel that the out-of-focus backgrounds have a somewhat harsh and energetic look. This is quite noticeable in close-up shots, or where the background has lots of highlights.
Sony 16-35mm f/2.8 G Master II: Sharpness
Let me start by saying this might be one of the sharpest and most consistent wide-angle lenses I've ever tested. Pictures taken at f/2.8 delivered excellent detail regardless of what focal length I happened to be zoomed to. Stopping down to f/5.6 resulted in only the most minor improvements to the images. Even contrast and consistency to the corners were excellent wide open. This is a lens you can happily shoot at at f/2.8 all day long.
This trend carried over largely when focusing specifically on the corners of the frame. Although the corners benefitted a little more from stopping down to f/5.6 they were still amazingly sharp at f/2.8. I can't think of any situation where any user would be upset by the sharpness of this lens, even with high-megapixel bodies.
Sony Makes Another Winner
The Sony 16-35mm f/2.8 G Master II makes such a strong showing that it's hard not to recommend it to almost anyone. Even given the fact that the original was also an excellent lens and needed the least improvement, the new 16-35mm is lighter and better in pretty much every regard.
Of course, the main issue is going to be price. These are expensive professional f/2.8 zooms after all. But given how versatile they are and the useful range that a wide-angle zoom covers, if you can deal with the price, you won't be disappointed in the results.
Are There Alternatives?
The original Sony 16-35mm f/2.8 G Master is an excellent lens, and if you can find one at a good used price it's a solid choice. If you already own one, I would probably hold onto it rather than upgrade. Otherwise, I'd get the new version instead.
The Tamron 17-35mm f/2.8 is a good budget option with a much lower price that still delivers high-quality images. It's outclassed overall by the Sony but represents good value for the dollar.
Should You Buy It?
Yes. Finally, Sony users have a trio of pro zooms that all deliver the goods, and smaller and lighter than ever as well.