If you're looking for dramatic shifts in image quality from Samsung, its foldable phones aren't going to give it to you. Instead, you get a combination of incremental changes and far more flexibility in deployment than you otherwise might with a standard smartphone.
We're now into the fifth iteration of the Galaxy Z Fold where Samsung has been refining its vision for what an effective and intuitive foldable phone should be. Given what they cost, the cameras have proven to be little more than afterthoughts for Samsung which insists on recycling existing components rather than trying something new.
The Galaxy Z Fold 5 follows the trend, though not without at least some tweaks to deliver improved results when snapping pics. What may stand out more here is the creativity its design offers for composition, which is why the phone must be judged from that lens as well.
Samsung Galaxy Z Fold 5: Design and Build
I covered many of the design updates from hands-on time I had with the device prior to launch, including the slightly thinner and slimmer frame. Not to mention the lighter weight and smoother hinge. Samsung's efforts to develop a foldable that feels more accessible are bearing some fruit from my own vantage point. I've tested each one going back to the original and the differences, while sometimes appearing subtle, stand out in combination with one another.
One of the reasons is because they're complementary. A lighter body is easier to carry around, while a smooth — yet still sturdy — hinge makes it easier to consider compositions from varying angles. Opening it up to reveal the larger 7.6-inch Dynamic AMOLED display still feels novel because of the extra real estate to work with. Foldables like this have an inherent advantage when previewing images before and after shooting them for the simple fact it's easier to see everything, including for editing photos.
My review unit also came with a case that included a holster for the S Pen Fold Edition, Samsung's familiar stylus that otherwise doesn't come with the Fold 5. Its usefulness is nice when you find ways to integrate it, like using it as a shutter to take a photo from a tight angle or a selfie where the device is out of reach. Then there's the precision for editing afterward, or jotting down a reference note on a photo. None of these features are new, but they're no less satisfying when applying them.
With the exception of the new Snapdragon 8 Gen 2 processor, the storage (256GB, 512GB, 1TB) and memory (12GB RAM) remain the same. The newer chipset does mean you get a better image signal processor and speedier performance in the camera app.
Samsung Galaxy Z Fold 5: Camera Features
Samsung promises "pro-grade" cameras in the Galaxy Z Fold 5, but that's being slightly disingenuous. For a company that clearly leaves its most advanced camera hardware and software tricks for the Galaxy S line, the Fold leans closer to mid-range specs. Indeed, the image sensors are exactly the same as the previous Fold 4 — what is changed are the lenses.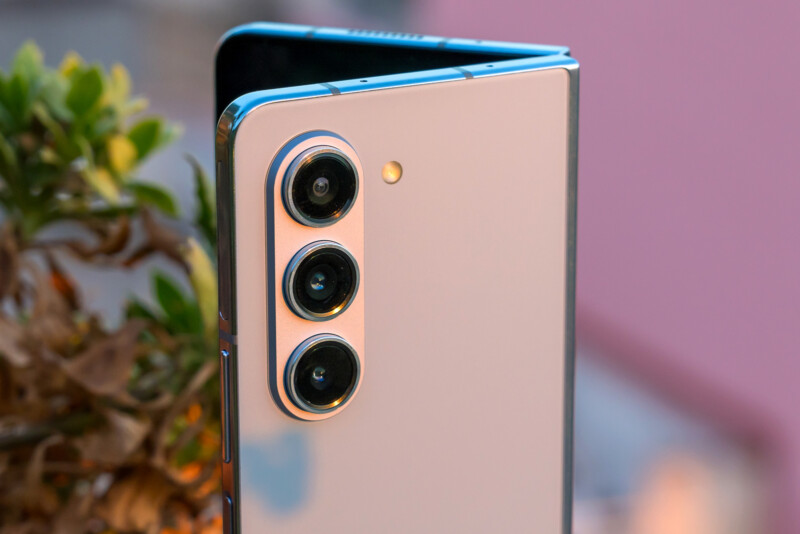 To recap, that gets you the same 50-megapixel ISOCELL GN3 (23mm equivalent) for the wide camera, which doesn't jive with what I was initially told when I asked if Samsung chose to use a different one this time around. It's got an f/1.8 aperture with optical image stabilization (OIS) and Dual Pixel autofocus. It also shoots with pixel binning, so you get 12.5-megapixel shots, leaving you with only the 50-megapixel mode as a full-resolution alternative.
The 12-megapixel ultra-wide (123-degree field of view) uses a Sony IMX258 sensor that isn't commonly seen on phones these days, and the 10-megapixel telephoto with 3x optical zoom (36-degree field of view) uses Samsung's S5K3K1 with f/2.4 aperture and OIS. As far as the rear cameras go, only the ultra-wide has no OIS.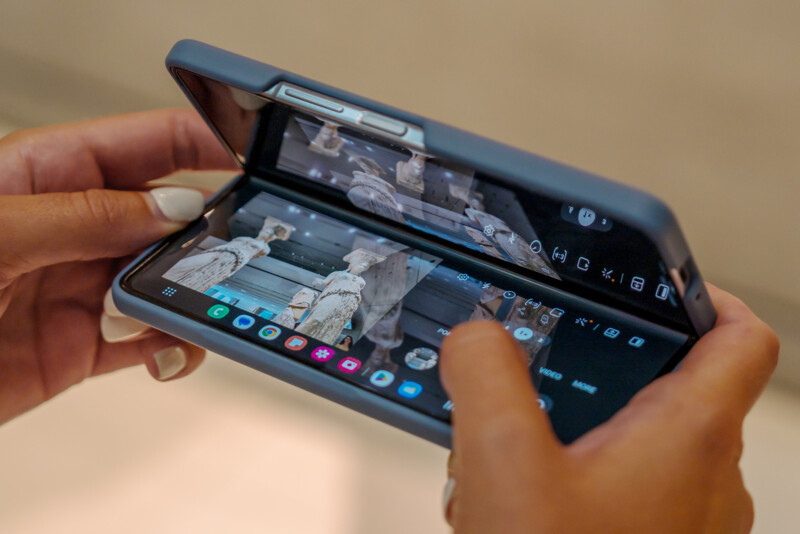 The two selfie cameras also retain their discrepancies. The cover screen has the far better shooter with a 10-megapixel sensor that does a pretty good job compared to the lackluster 4-megapixel one in the Main screen that only proves to be useful for video calls.
Samsung Galaxy Z Fold 5: Software Features
Samsung opted not to really tweak or change much as far as what the camera app presents, focusing more on how the software processes images instead. It's not entirely clear how or what is actually working here — it could be AI doing some of it — but results indicate the image signal processor can read a scene better this time around.
That matters in the grander scheme because the Fold 5 invites creative thinking in how to take a photo. Place the phone down on one half, and angle the other to frame a shot from an interesting perspective. The app's interface simplifies how to preview an image, letting you switch down to see it on the bottom half, particularly when tilting the other half to face further up for a majestic or worm's eye point of view.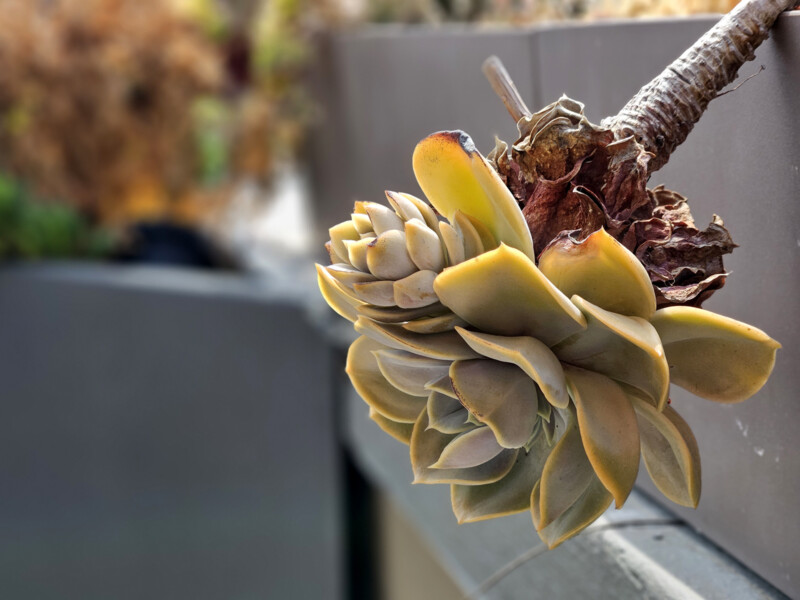 Samsung picked up on scenarios like this when marketing the Fold 4 yet chose not to focus as much on camera performance for the Fold 5. Despite that, the same flexibility literally applies. This is one of the easiest phones to take a really good selfie with, and also one with the dexterity to capture things in unconventional ways. That's how I've always looked at foldables like this, and I suspect it will catch on with content creators looking to stand out in a crowd.
Samsung Galaxy Z Fold 5: Image Quality
Main Camera
Two things happen at once with the main camera. Samsung's penchant for richer colors seems to work in tandem with the detail the new processing engine tries to hone in on. For example, the software absolutely loves a sky, producing blue hues that liven up any image. They can certainly venture into the realm of exaggerated pop, though I would also argue the company's past excesses in saturation aren't as prevalent here.
Photos retain more detail than they did before, a feat clearly made possible by the new processing engine — maybe AI, too. Otherwise, output largely stays the same, though not without some odd bugs, as in how night and low-light shots sometimes capture too much light for unrealistic results. The easy fix was to adjust the exposure slider and mitigate it, but I also noticed the regular Photo mode would do less of that than the Night mode would.
The low-light details are sometimes obvious compared to the Fold 4. While I haven't used one of those since last year, I looked at the photos I took when I reviewed that device and noticed the differences and similarities. A closer look reveals improvements in overall rendering, but then there are inconsistencies. Shoot in broad daylight, and color temperature looks pretty normal, only to then deviate indoors with much warmer tones. Meanwhile, dynamic range gaps aren't as significant, putting the two closer together in that regard.
The Fold 4 was a bigger jump when specifically compared to the Fold 3, so there's no real leap forward here. You can still shoot in RAW in Pro or Expert RAW, the latter of which is now much easier to find and access as a separate app. Unlike the Galaxy S23 Ultra, you can't shoot in Expert RAW at full resolution.
Ultra-wide and Telephoto
The ultra-wide lens doesn't offer much in the way of dramatic change, but it sometimes turns out to be the most versatile when angling the Fold 5 any which way. Using a case made me worry less about scratching the Cover screen because the bumper out front elevates it just enough. Gorilla Glass Victus protection is great, but that doesn't make the phone any less susceptible to scratches when you want to put it down screen first.
I did this on rocks, stone, roads, concrete — pretty much anything I could find when I wanted to try something. While I would've liked a better image sensor to go with it, I got better-than-expected results. It's hard enough to lay a phone down on the ground to capture a tighter worm's eye view with any average phone slab, but not so with this thing. The ability to preview the shot on the bottom half does wonders for placement, albeit challenging to see in really bright sunlight. Throw in the S Pen as a remote shutter and you have a nifty setup.
The improved processing also shows with the telephoto lens, where more detail appears in these photos compared to last year's model, even if dynamic range mostly stays the same. What's most surprising is the balance in low-light situations, especially considering how the main wide lens sometimes overcompensates on light gathering. The telephoto lens finds a way to keep from zealously increasing exposure and maintain good detail and dynamic range. You do need decent ambient light for the scene, but the results should stand up well. Digital zoom is still terrible at any time of the day or night, with 30x zoom images looking especially awful.
Video Features
Samsung generally does right by users with video recording, and the Fold 5 toes the line. Improved processing helps with overall quality, but I would argue the changes are more noticeable for still images. Even so, the folding design at least offers some creative choices for filming worth exploring. I didn't try my hand as much in that respect, but like every Fold that came before it, the Fold 5 makes it worth considering.
The Samsung Galaxy Z Fold 5 is Better, Just Not a Flagship
By any metric, the Galaxy Z Fold 5 is pricey. Any phone starting at $1,800 would be whether it folds or not. Despite the improvements, the camera array here veers more toward mid-range performance than it does anything flagship, especially based on Samsung's own standard. Only six months removed from the Galaxy S23 Ultra, the Fold 5 feels closer to 2022 than it does 2023.
That's not to say it's incapable of taking really good photos. My own results convinced me it could; just that I was always reminded that I was holding a premium device when shooting with it. One could make a reasonable argument the Fold 5 appeals more to users who won't prioritize camera performance, which is probably true but doesn't negate the fact Samsung won't push the imaging envelope with its foldables. These devices aren't camera trendsetters, they're followers.
Are There Alternatives?
With each year, competitors throw their own foldables in the ring, slowly but surely making for a more interesting market. The Google Pixel Fold stands out as a key option, particularly when its own cameras are a little closer to the flagship Pixel line and Google's software computation works just the same.
Chinese brands like Xiaomi, Vivo, and Oppo have all tried their luck so far with foldables, except they're not as easy to find in North America. And we're just talking foldables here that fold out like a book, not including the ones that flip open from Samsung, Motorola, and others.
Should You Buy It?
Maybe. Only if the idea of a foldable phone works for you in other ways because the camera is not the main reason to buy this device.