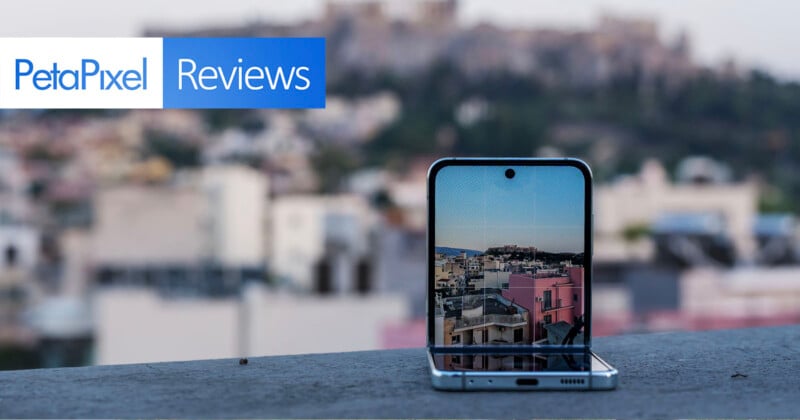 Foldable phones are probably going to be a viable part of future mobile devices, but for now, they're not moving the needle forward in image quality. The Samsung Galaxy Z Flip 5 is no different, except it makes a better case that the rear camera lenses are much better off when there's a larger cover screen all around them.
This has been the biggest change, especially over the last two iterations. Compare the Flip 3 to the Flip 5 and the larger cover screen appears like a dramatic shift. It's fair to assume Samsung always envisioned something like it when first developing the Flip concept and now that it's here, it does make the device feel more versatile.
There is a big "if" attached to that, though. App developers will need to buy in to make the outer display feel like it's a deeper extension of what's already available every time you flip the Flip 5 open. The good news is the door for creativity continues to creak open for a phone like this.
Samsung Galaxy Z Flip 5: Design and Build
I went over the basics of what's changed with the Galaxy Z Flip 5, the biggest of which is the 3.4-inch cover screen, or "Flex Window" as Samsung now calls it. The rest of the phone will feel very familiar, with Samsung using many of the same materials and dimensions. The one notable exception is the hinge, which is not only smoother with fewer moving parts but also folds flatter to truly remove the gap that was previously a big factor in the design.
Despite the Gorilla Glass Victus 2 protection, the 6.7-inch Dynamic AMOLED 2x Main screen retains both the crease in the middle and the panel that continues to be a fingerprint magnet. IPX8 protection is great for water, but dust always concerns me with a device like this because the screen is made up of a plastic film on top that isn't flush with the surrounding bezels.
In some ways, Samsung's hands are tied throughout. A 3,700mAh battery is small by any measure on a phone this size, and with two screens, the Flip 5 is often an attritional battle to keep the lights on by the end of the day. There's a fragility to the phone that's also worth considering, not only because of how expensive a repair can be (when not covered by warranty) but also for how you may want to use it as a camera. Samsung provided a case for me to test out, which helped protect it and used swappable rear attachments.
You'll need a case just to protect the back. I find it puzzling why Samsung would choose to return to a glossy back for this phone after going matte for the first four, especially when all it does is add to the fingerprints and blemishes that already mark the device everywhere. I would also see it slide off wireless charging pads.
As for underneath the hood, the Snapdragon 8 Gen 2 for Galaxy processor is more efficient, all things considered. Storage options range between 256GB and 512GB, with 8GB of RAM either way. That's a bump for the Flip 5, given the Flip 4 started at 128GB.
Samsung Galaxy Z Flip 5: Camera Features
Samsung spoke less about the cameras in the Flip 5 than it did for the Galaxy Z Fold 5 when unveiling both devices, and it's easy to understand why. The Fold 5 has a better image signal processor, which I would've expected here, but it's not all that evident a whole lot changed on that front here.
But the word "front" is apt in this case because of the cover screen — sorry, Flex Window — that changes how to take selfies or other uniquely-angled photos.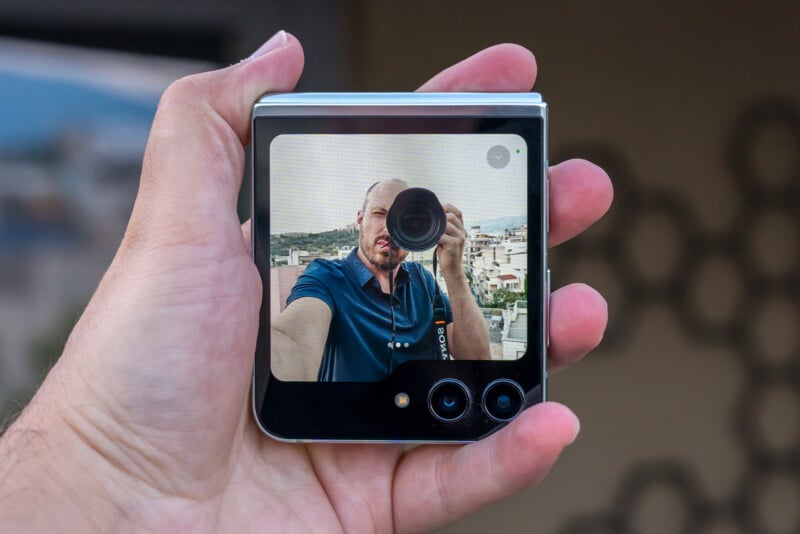 The main 12-megapixel Samsung S5K2LD (24mm equivalent) is a dated image sensor at this point, going all the way back to the Galaxy S20. Then there's the 12-megapixel Sony IMX258 (123° field of view), which is also the same one equipped in the Fold 5. Both rear cameras are simple carryovers from the Flip 4, indicating that Samsung chose to stick to familiarity, probably to keep costs down.
Except it's hard to justify a $1,000 phone with cameras that might be more acceptable on a phone half the price. There's no telephoto lens, so getting closer to a subject further away invites all kinds of pixilated noise since Samsung doesn't have the kind of software computation Google has for that sort of thing. And without a larger sensor or more resolution, you have limited range for cropping.
The irony here is that the 10-megapixel front camera (when flipped open) is less relevant because of the larger cover screen. It's never been easier to frame a shot on the cover than it is with the Flip 5, regardless of what the subject is. Place the phone on a flat surface and angle the rear cameras upward where you can see the live preview on the cover screen. Alternatively, you can also switch the preview on the main screen to the lower half for a clearer view. Slightly folding the phone and laying it sideways somewhere can also open up possibilities, including for long exposure shots in Pro mode.
Samsung Galaxy Z Flip 5: Software Features
It's hard to point out much here on the camera side, specifically, simply because Samsung retains the pre-existing interface and options. Again, the cover screen offers newer ways to interact with the device, letting you access a small selection of apps, plus notifications and quick snaps or videos without ever flipping the phone open. You can expand on the limited options through the Samsung Labs beta features in the settings, or download apps and launchers for the cover screen from the Galaxy App Store.
A bigger cover screen isn't necessarily the best for viewing photos after taking them, partly because of the lower 720 by 748 pixel resolution, but also because pinching to zoom in only makes matters worse to see details. Still, the convenience is so easy to appreciate. I can't quantify it but if there's enough interaction by the sheer size of the cover screen, then it may negate flipping the phone open for a variety of tasks. I found this to be true because of how the extra real estate makes it much easier to see more text, but there's real potential to make a foldable like this more adaptable. I haven't tested it, but that's partly how Motorola markets its latest Razr.
Samsung Galaxy Z Flip 5: Image Quality
Main camera
Despite the aging hardware, it is possible to snap good images with the Flip 5. Samsung's software does a fine job with detail, white balance, and dynamic range, even if the colors sometimes come out a little too vivid. You notice this with skies, grass — basically anything that's primed for richer tones — though it's not as pronounced as in years past. This crowd-pleasing approach to mobile photography is hardly a surprise for a device like this, especially when it can somewhat mask the other limitations.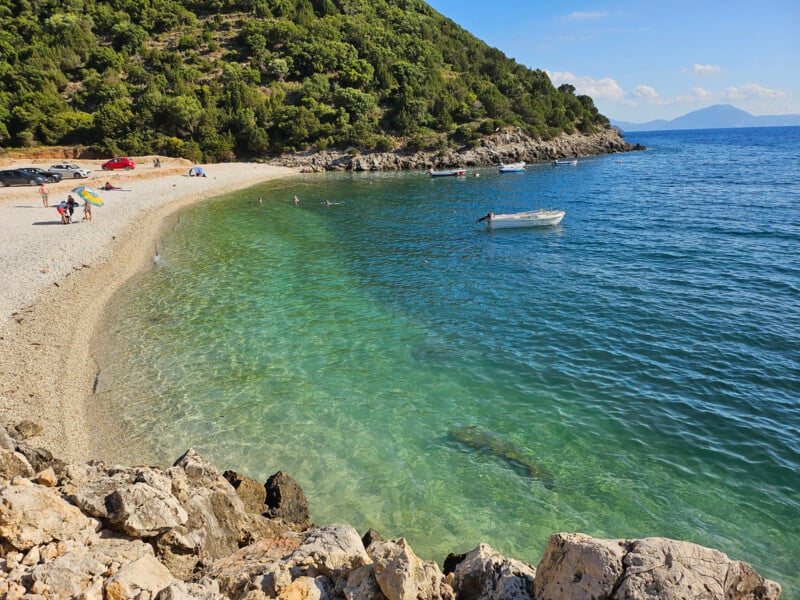 Thankfully, that can extend to low-light and night images, so long as you have decent ambient light to work with. It also depends on how far the subject is. I wasn't always taken with night vistas on the Flip 5, whereas closer views came out looking better — great for architecture shots, and even for those posing in front of a scene.
There's a softer tonality here, particularly with highlights, but I liked that I could use the regular Photo mode at night. If I wanted to capture just a little more from the shadows, I could always turn to Night mode.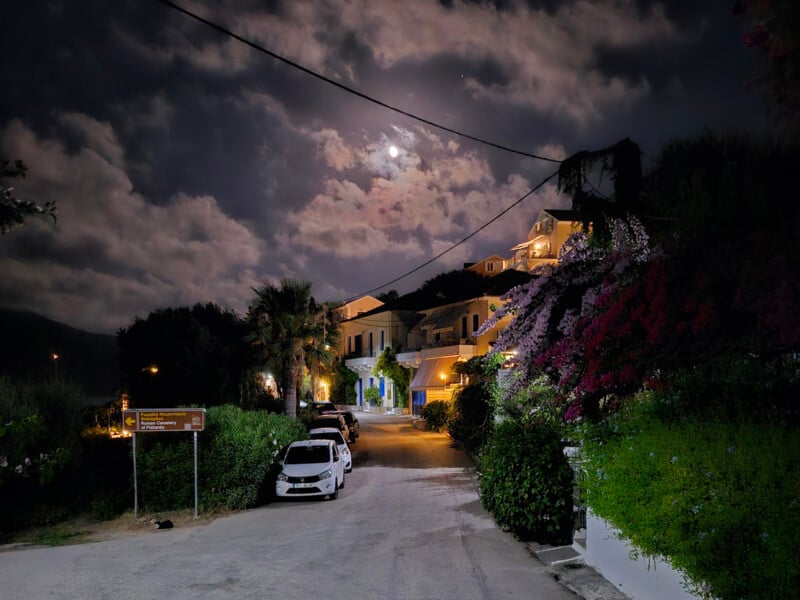 Otherwise, though, results aren't going to blow anyone away for a phone of this caliber. What turned heads more was how I deployed the phone, be it laying it down on a rock to capture a flag photo, or angling it any which way to experiment with a scene. I knew I had started something when another bystander tried to do the same with a slab phone as well.
Pro mode is limited in scope despite the manual controls, and while Expert RAW is available, it can only do so much with the existing sensor. You can get good shots with both, but noise will be a problem in low-light situations.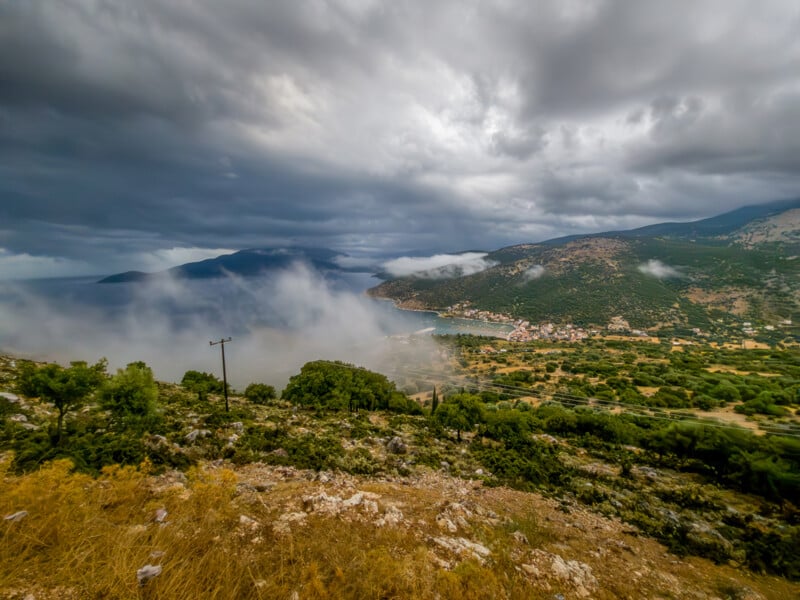 Ultra-wide
The ultra-wide sensor is the same as that of the Fold 5, except that the phone has a newer lens, which may explain why it handles light sources a little better. Not that it's polarized, but glare was less of an issue with that one. Here, the results aren't really different, but still capable of coming out looking pretty good. Colors appear vivid, with decent detail along the edges, both in day and night shooting. Play around with angles and you can shoot with some confidence when trying to creatively capture a scene.
Indeed, like the Fold 5, the ultra-wide often provides the best avenue to do so. The wider field of view means you can shoot in tighter spaces, crowd more people into a shot, and squeeze more of the background into a frame. Prop up the phone or bend it any which way and you can preview the prospective shot on the top or bottom half, only adding to the convenience for framing. It's also cool trying this sort of thing with Portrait mode, where results could look interesting.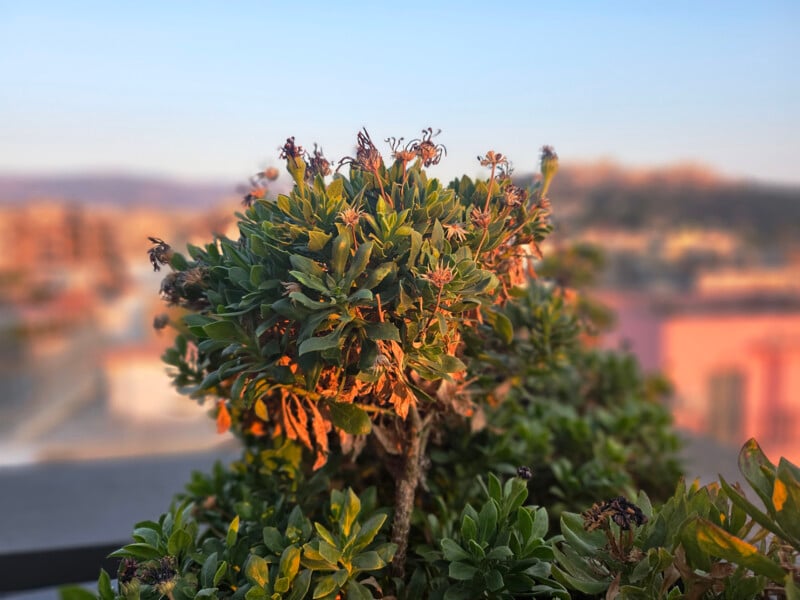 The Flip 5 is somewhat delicate, however, which is why a case is necessary, but it holds an advantage (over the Fold 5) in that you don't have to lay it down on its cover screen for photos.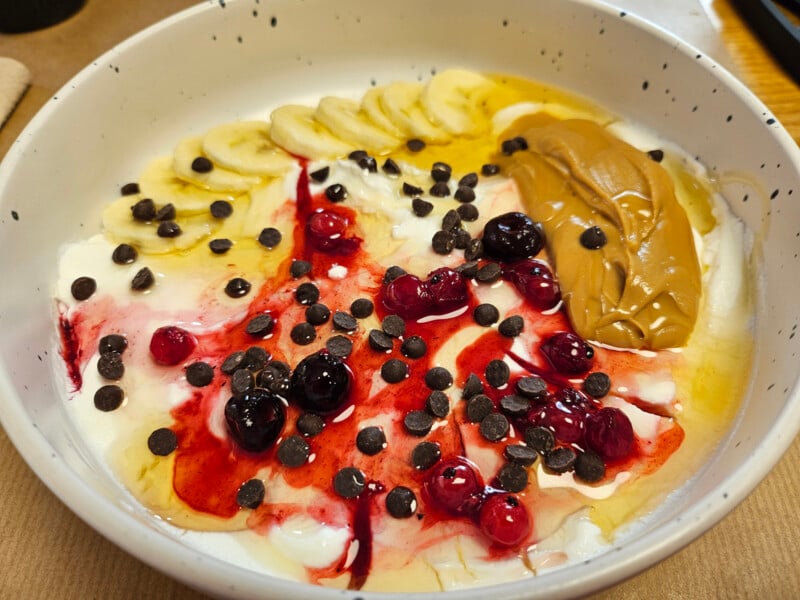 Samsung Galaxy Z Flip 5: Video Features
Nothing really surprising comes out of the video side of things, save for how much easier it is to shoot selfie videos using the cover screen. Any real changes from the Flip 4 are going to appear minor, in my estimation, as it's not entirely clear what Samsung did to improve image processing. You'll like a lot of what comes out of this phone, though it depends on your own expectations.
Giving the Flip a Tip
In lieu of a higher quality camera, the Galaxy Z Flip 5 is more of a convenient shooter with a creative twist. Image quality is simply not up to the standard of today's $1,000 phone, and were it not for the foldable design, the Flip 5 would be a flipping disappointment by that metric. As is, Samsung seems stuck in a quandary. The cover screen is bigger and better, yet the cameras and battery are stagnant, making for an interesting situation going into what this phone's successor will look like.
Either way, Samsung needs to do something, and perhaps competitors will force its hand. The Flip is no longer a conceptual design; it's hit a maturity now that is proven viable, already reinforced by what other brands are doing as well. Foldables like this will still be a novelty for most users, but I expect that will wear off quickly once more of them are out in the wild.
Are There Alternatives?
You could always consider the Galaxy Z Fold 5 as an option if your pockets are deep enough for both the phone's size and price tag. On the flip side (pun intended), the Motorola Razr+ is probably the most direct competitor, not the least of which because it credibly moved things forward on what cover screens could look and function like.
Should You Buy It?
Maybe, but only if the camera is of secondary importance to you or if the image quality and convenience — especially for selfies — appeal to you.