Frames Magazine is a quarterly, 112-page print publication on fine art photography. The team has spent the past year developing an accompanying app, Frames Photography App, that aims to be the complete app for photographers.
Frames Hopes to be the Home of Photography on Your Phone
The app comprises sections for discovering photographers, seeing beautiful photos, sharing your work, reading articles, some exclusive to the app, and watching videos.
While Frames Magazine is, expectedly, a paid publication, the Frames app is entirely free to use.
Getting Started
Once I downloaded the app, I set up a free account. I picked a username, selected my favorite genres of photography, and picked suggested users to follow. These fellow photographers are served to the user based on their preferred genres.
Importantly, even if you pick specific genres, you can still easily find photographers whose work corresponds to other types of photography via in-app filters. For example, I did not select "Abstract," but I can quickly see abstract photography using this filter in the app's Recommended tab at the top. Users can combine multiple genre tags to further refine searches, which will be very important when the app's user base grows. As of now, there are not a lot of users.
Tomasz Trzebiatowski, the editor-in-chief of Frames Magazine, tells PetaPixel over email that he is targeting a user base of a few hundred thousand users within a year or two but is significantly more concerned about quality over quantity.
"My main goal is to create an engaged and serious community of photography enthusiasts," Trzebiatowski explains.
There Are Some Limitations
The Frames app is new, having released less than two months ago, so the biggest limitation of the app so far is that there are few users. That said, while that does mean that you cannot spend an indefinite amount of time browsing through beautiful photos, it also means that the users on the app are very engaged and serious about sharing their photography.
So far, my biggest complaint about the usability and design of the Frames app is the lack of a dark mode option. I asked Tomasz about this and he says that a dark mode is on their development roadmap and should be quite easy to implement.
This is a good time to note that while the Frames app has been in development for the past year, it is by no means feature complete. As good as it is now, the app will continually be improved.
An Android version is in the works, as is a native iPad version of the app. Further, Tomasz says that a full-fledged web version is in development.
A Robust Platform
Frames is about sharing photos, but it is about so much more. It is a photo-sharing platform built specifically for serious photographers. To that end, the presentation of photos on people's profiles is beautiful. There is no wasted space. When tapping on an image, you can view title and caption information, selected location and EXIF data, and even tap on an image to view it against a black background. Further still, you can zoom in on an image, something that is sorely missing from Instagram. Frames also includes standard social media functionality, including "likes," comments, and the ability to save posts.
I am happy to scroll through beautiful images but am also a big proponent of projects, series, and larger portfolios. Frames allows users to create portfolios and series on their profile, which can be displayed separately from individual images. This is something else that Instagram is not built around. While you can publish multiple photos in a single post, that is a barebones way to share a series of images.
A noteworthy aspect of the Frames app is that it is the only way for Frames magazine supporters to get together, communicate with one another, and share their work. Of course, the app is not exclusively for magazine subscribers, but it is an excellent place for like-minded photographers to gather.
Crafting a Personal Portfolio
The process of adding images to Frames is straightforward. Users just select images from their phones and upload them.
Unfortunately, there is no batch upload option, and you must add images one at a time. However, there is a good amount of information that you can add when uploading an image at least. Some metadata is pulled from image files, provided it is available, including lens aperture, shutter speed, and ISO. As for focal length, this field didn't autofill with any images I uploaded, but each area is user-customizable.
Photographers can title their images, and there is also a description field and a place to put location information. When viewing a photo on anyone's profile, there are also buttons for sharing and saving posts.
Something neat about Frames is that while there is no web version of the app, there is a web version of each user's portfolio. There are a few quirks, including odd cropping on a profile's featured image and wonky operability with Portfolios and Series. That said, the Latest Work tab, the primary image feed on a person's profile, works well, although the information in the app beneath each image is not shown on the web portfolio. That said, it is neat that users get a free portfolio that can be shared with desktop users, even if it is imperfect.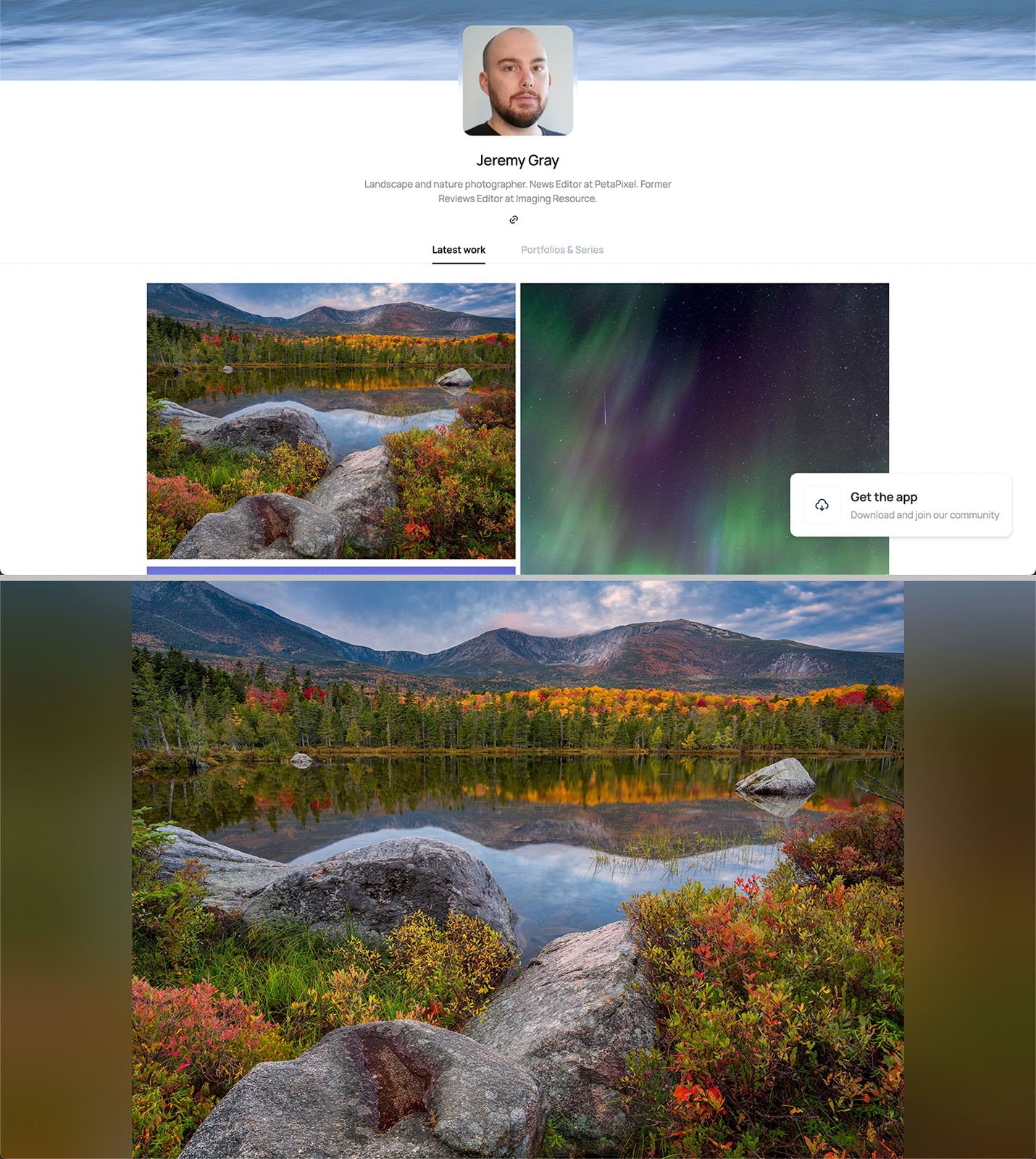 Should You Buy It?
Yes. The Frames app is really cool. Even better, it is free, so you do not need to buy it; you can just download it, and you should do that right now if you're on iOS. As mentioned, an Android version is in active development.
Even if there are some limitations with the app, namely the relatively small population of users right now, it offers great tools to display your photos, find talented photographers to follow, and read articles and watch videos to expand your photography knowledge.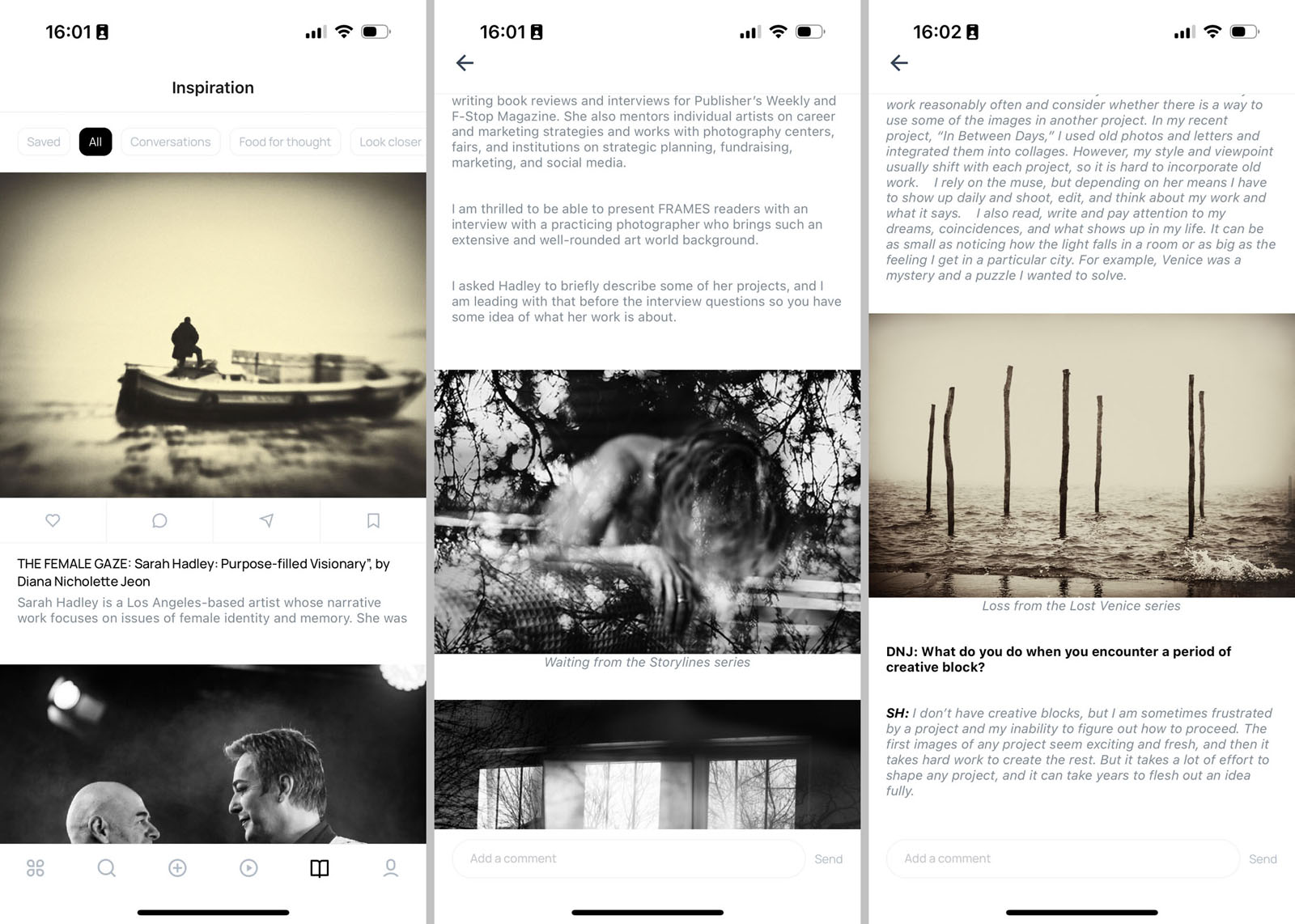 The Frames app celebrates photography in a thoughtful, visually appealing way and never hits you over the head with ads or dull content. In fact, there are no ads at all. The app is just a celebration of photography, and that itself is worth celebrating.