Wacom recently expanded its lineup of entry-level pen tablets, adding the $600 Wacom One 13 Touch Tablet, the first pen display in its category to feature 10-finger multi-touch gestures.
The Wacom One 13 Touch tablet made for people who've decided it is time to upgrade their photo and design skills from just a regular pen tablet or iPad. Given its durable build and user-friendly interface, the budget-friendly tablet is rightfully targeted at new and emerging artists who are frequently on the move and looking to up their retouching game.
After spending a few weeks with the Wacom One 13 Touch, my initial hesitation about the device fizzled out and was instead replaced with excitement, as despite it being aimed at beginners, the tablet has a lot of appeal for working pros as well. It is an attractive tablet for people like me who are often traveling and would prefer something a little more powerful than just a regular pen tablet.
The Wacom One 13 Touch is travel-friendly because it has a small footprint and doesn't require an external power source or additional connections like HDMI or Display Port to operate like many other display tablets. This one runs off of a single USB-C connection making it easy to pack alongside your laptop for precision editing while on the road.
Design and Build Quality
The Wacom One 13 Touch is the larger of the four new tablets recently announced, measuring 13.2 by 8.7 by 0.4 inches (335 x 221 x 10 millimeters) including its sizable bezel. Even though the tablet is large relative to its siblings, it is still lightweight, weighing just 1.9 pounds (862 grams). It is also thin enough that it easily fits in most bags alongside a laptop.
The backside and outer edges of the tablet are covered with a rough textured plastic that provides a better grip than an otherwise smooth tablet offers. Along the top edge of the chassis is a small hoop designed to store the included (customizable) stylus. Along the left side are two USB-C connections, and the right side includes three buttons for controlling the Touch options, power, and device settings.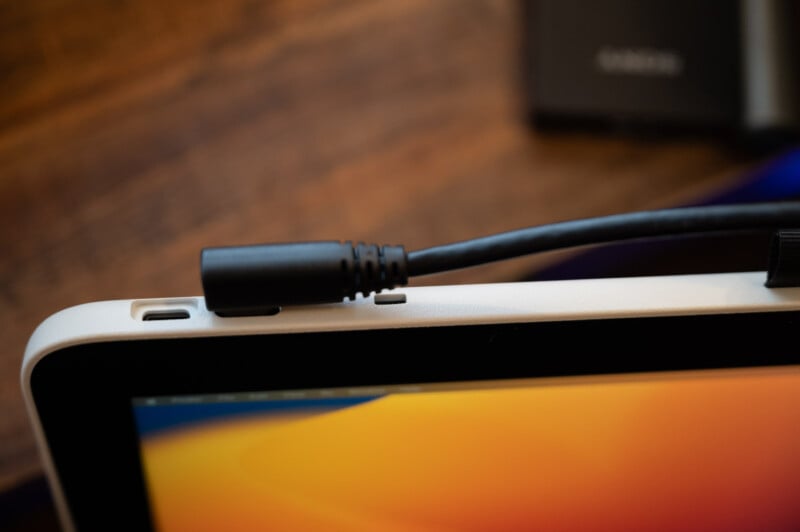 The back side of the tablet includes small rubber feet to prevent the tablet from sliding around when it is lying flat on a desk. Sadly, the tablet does not come with a protective case for travel, nor does it include a stand to enable easy use in any position besides flat without hand-holding it. Fortunately, there are a wide variety of options available from third-party retailers as well as some pretty affordable options directly from the Wacom Accessories Web Store.
The Display
Despite having a "bezel for days" as some of my colleagues have said, the Wacom One 13 Touch display offers users a maximum resolution of 1920×1080 pixels over an 8.5 by 5.3 inch (216 x 135mm) working area. While this may seem disappointing, it actually works in its favor since it is so lightweight you can handhold the tablet much like you can an iPad or even an old-fashioned notebook, allowing you to sketch away with your free hand.
Wacom says the tablet covers 99% of the sRGB color gamut. To be fair, I think the company is being conservative here because after repeated calibrations with multiple devices, the Wacom One actually reports 100% coverage of the sRGB gamut, as well as 84% of the NTSC, 88% of AdobeRGB, and 93% of the P3 gamuts.
The screen is rather dim at default settings, but the brightness can be changed using a built-in display settings menu accessible by clicking the button between the touch and power buttons on the top of the tablet. This gives you access to input selection (right or left USB-C connection), display settings (where you can adjust the color mode, brightness, contrast, color space, color temperature, and even RGB settings), and other settings (where you can adjust the language of the device, pen side switching, and more).
The tablet's glass display is resilient and smooth to the touch. It feels like handling an actual iPad as the glass basically goes right to the edge of the device despite the giant bezels. Using the pen along with the touch features is pleasant, allowing for straightforward zooming and rotating. It is easy to use my free hand to navigate menus in Adobe Lightroom and Photoshop while using the pen with my other hand. I have even found myself using the tablet to read articles on websites as it is just more natural to scroll through the posts using hand gestures. What is more impressive is even with the touch, the tablet never had any issues "detecting and ignoring" the palm of my pen-hand. You can rest your hand on the display while using it without issues.
Even though the maximum resolution is only 1080p, the display does not look "scaled" or fuzzy. Thanks to the adjustable brightness and color controls (and calibration) the resolution actually makes the tablet feel just right for users of all skill levels, or for pros to bring on the road. The display's performance certainly doesn't hinder getting professional work done on the tablet, even if its specifications are not top-of-the-line.
The Pen
The pens for this particular line of tablets are a little bit strange to get used to. I'm not saying they are bad, it is just that after years of working with professional level tablets, to use something so lightweight and small is a bit of an adjustment. That said, the quality of its operation is very good. The pen is impressively accurate with a smooth feel and fast response time.
According to Wacom, the included battery-free pen features 4,096 levels of pressure, like most Wacom pens, has no parallax, features natural tilt recognition, and has two programmable buttons for your most commonly used "clicks." Sadly, this style of pen does not include the "eraser" on the back side of the pen, but it is a small trade off, because you can still order and customize your pen(s) both ergonomically, as well as feature/style wise for the Wacom One.
Usage and Performance
Honestly, other than getting used to how to position the tablet, it works pretty great. The pen is accurate and responsive for retouching and just doodling or drafting. The pressure sensitivity and tilt accuracy is excellent. Incorporating all of the multi-touch features into the Wacom One is a very nice touch, making it fun to use.
Configuring the pen and multitouch to your liking is straightforward, giving users the freedom to enable/disable whatever features they want
I ended up retouching a wedding and a portrait session using the Wacom One 13 Touch, and was pleasantly surprised with just how effective and portable it was. No, it does not have Bluetooth and cannot operate wirelessly, but even connected via USB-C, the footprint is very small.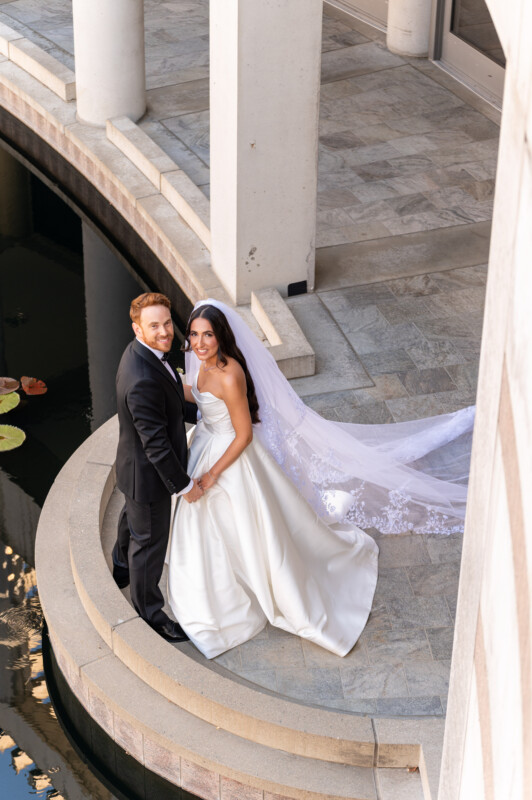 The Wacom One 13 Touch Is Functional for Users of all Skill Levels
While the bezels are an immediate detraction from the overall experience, the Wacom One 13 Touch is a highly functional and impressively fashionable tool for beginners and working professionals alike. For people looking to make the jump into pen displays, its relatively low price of $600 makes it a pretty easy purchase.
For working professionals, it is a relatively affordable tool that offers professional level accuracy and useful portability for travel. This may not be my primary display tablet while I'm at my home or office, but it is certainly an appealing option for working on the road and doing remote jobs.
Are There Alternatives?
There are a lot of options for creatives looking to get started working with a display tablet, including the other $400 Wacom One 12 Display Tablet, the $300 Wacom One 13.3″ Creative Display (without touch), and the $800 Wacom Cintiq 16 Full HD tablet if you want to jump to the pro-level Wacom tablets.
On the more beginner side of things, there is also the XPPen Artist 10 Gen 2 for $153, the Innovator 16 for $300, and the Artist Pro 16TP for $675. Additionally, Huion offers the Kamvas 12 for $239, the Kamvas Pro 12 for $219, and the Kanvas Pro 13 for $399.
Should You Buy It?
If you're looking for your first display tablet or wanting a small, portable, and affordable one to bring with you while traveling, the Wacom One 13 Touch Display Tablet is worth the $600 price of admission.