Having a solid keyboard is crucial for any desk setup, whether that's in an office or at the dining room table. But not all keyboards are built equally, and not every model is best suited for each task. These are the best keyboard options across use cases.
What We're Looking For
The best keyboards will offer the complete package: the best functionality meets the best form. After all, your keyboard is one of the first things anyone will notice on your desk, and it gets heavy usage. This guide will feature keyboards that are ready to go out of the box and ones that feature heavy customization options.
Some key terms to know are mechanical versus regular (or membrane) keyboards. The latter describes options that are made up of keys that are all connected with — you guessed it — a membrane. They're not as loud as mechanical keyboards but they also don't have much feedback, which can make typing without looking more difficult. You're likely to find this option in a basic office setup.
Mechanical keyboards have physical switches under each key. There are many different types of switches, which can give these keyboards a more personalized feel. For the purposes of this guide, we'll just go into three big ones: red, brown, and blue.
Red switches tend to be quieter and are versatile, making them good for swapping between gaming or typing. Brown switches are gentle but offer tactile feedback making them good choices for gaming and work. Then there are blue switches, which are often quite "clicky" and they're best used for typing. There are tons of switch options, and there are demo packs that let you test a variety to see which you like best. That said, these three are common and serve as a good entry point for mechanical switches. It's also possible to dampen the noise if you prefer.
There are other options, too, like Apple's scissor-switch keyboards. These will have a more tactile feel, making typing easier, but they're quieter and don't offer customization options.
Whether you know what they are called or not, you probably have a preference already coming into this guide. It is our goal to provide you with a great selection regardless of what kind of keyboard and switch you lean toward.
At a Glance
The Best Overall Keyboard: GMMK Pro
The GMMK Pro, sold by Glorious, is the holy grail of mechanical keyboards. It's completely customizable, from the usual keycaps that pop off, to frame color options, and even the key switches themselves. The ability to skip the soldering of other custom-built mechanical keyboards and the way you can easily swap switches as you please make this an easy front-runner. Literally every piece of this keyboard can be changed and swapped out. The USB-C, frame, keycaps, and switches all operate like Lego bricks. You can change out pieces over time and slowly upgrade this beast into your perfect typing companion or get all the bells and whistles from the jump.
On that note, you'll need to have some idea of what you want before buying: do not just go to the company's online store and click "add to cart." If you do that, you'll only get the base of the keyboard without even switches and keycaps.
Putting together a nice custom build with a bit fancier switches, pretty keycaps, color-coordinated plates, and wires, along with maybe an accessory or two will run about $600. But you can also opt for the pre-built version and go about your day if you just want a solid keyboard upgrade. That costs $350.
The GMMK Pro has noticeable heft, but it feels more weighty and luxurious than clunky. It simply feels expensive. The GMMK Pro is pricey, but every element feels like the money went into building a truly substantial product. It also offers a rotary knob, typically used for volume (or muting when pressing as a button), but you can change this, along with the functions of just about every other button. The custom mapping is also quite flexible, allowing you to create your own commands, like opening a particular program. There are also plenty of lighting options, making it easy to get lost in selecting specific hues or what pattern each key should light up in.
All of this makes the GMMK Pro an absolute joy to use, and picking each component upon ordering feels like a buffet. Unfortunately, the functionality lessens on Mac. You can only change the lighting scheme manually, and the Glorious Core software won't work, either. If you really want the full experience, you'll have to download a key re-mapping app.
The GMMK Pro starts at $170 for the barebones base and $350 for the Prebuilt Edition.
The Best Keyboard for Video Editing: Blackmagic DaVinci Resolve Editor Keyboard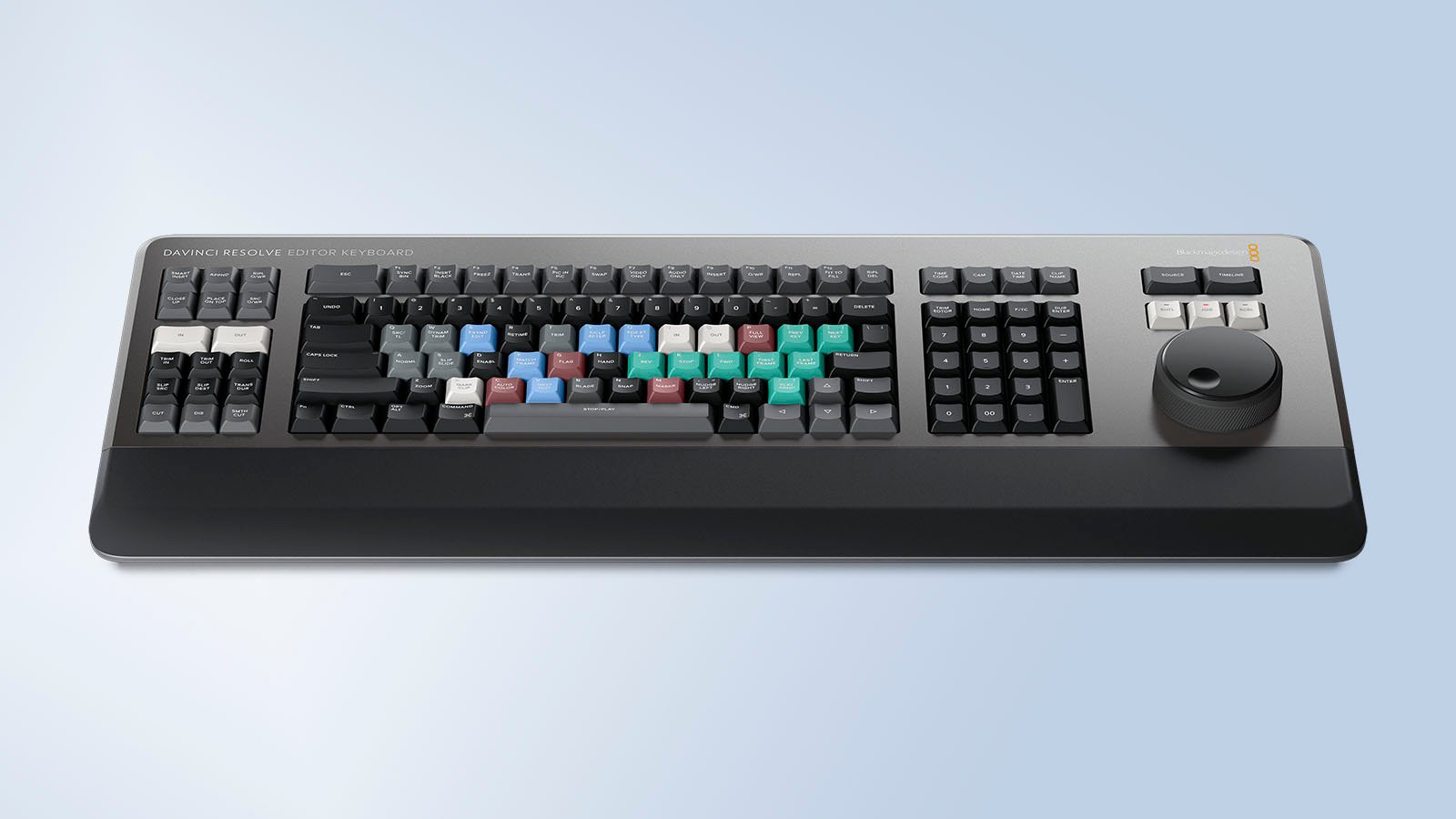 The DaVinci Resolve Editor Keyboard packs in both photo editing shortcuts and a full-size keyboard. Above the clean metallic body, color-coded shortcut keys pop.
The built-in dial makes scrubbing through a video far easier, and you can switch between source and timeline with the keys above. You can also toggle between the shuttle, jog, and scroll settings, which change how fast you scrub through the timeline. It's also possible to switch between the timeline and frames, and you can directly input the timestamp you want to jump to.
As a bonus, the DaVinci Resolve uses both Bluetooth and USB connections. In addition to being a good-looking addition to your video editing suite, it can be installed flush into a console.
The video editing keyboard will run you $595.
The Best Keyboard for Photo Editing: Loupedeck+
The Loupedeck+ seems to take all the hidden tools of Lightroom and Photoshop and put them right at your fingertips. The array of keys is expertly designed with clarity. Key settings, including exposure, contrast, and saturation have easy-to-use knobs, letting you fine-tune images with ease. The color wheels also make it easy to perfect just the right look. The other essentials also have dedicated keys: cut, paste, undo, redo. It simply makes photo editing frictionless.
Crucially, it has programmable keys, as well, allowing you to set your own commands, whether that be a macro you love on RAW images or another setting for playing music while editing. The Loupedeck+'s Custom Mode also lets users set up four layers of command and action layouts by using the FN key to switch layers. The Loupedeck+ can also be used for video editing, but the photo capabilities are where it truly shines.
The Best Keyboard for Mac Users: Magic Keyboard
Sorry, haters, but the Magic Keyboard takes it here. I know there are detractors of the proprietary keyboard. But it's lightweight, wireless, and seamlessly fits with the macOS ecosystem. Sure, you could program function keys to match your MacBook's built-in keyboard, but why would you want the extra work? And while Apple has a questionable history with its keyboards, the Magic Keyboard offers a pretty smooth typing experience.
Apple offers two options, one with a number pad and one without, and both have a Touch ID option as well (for more money, of course). The Magic Keyboard also comes in white and black.
Apple has a few Magic Keyboard options, but if you want the full one with Touch ID, it'll be $199.
Best Gaming Keyboard: Logitech G915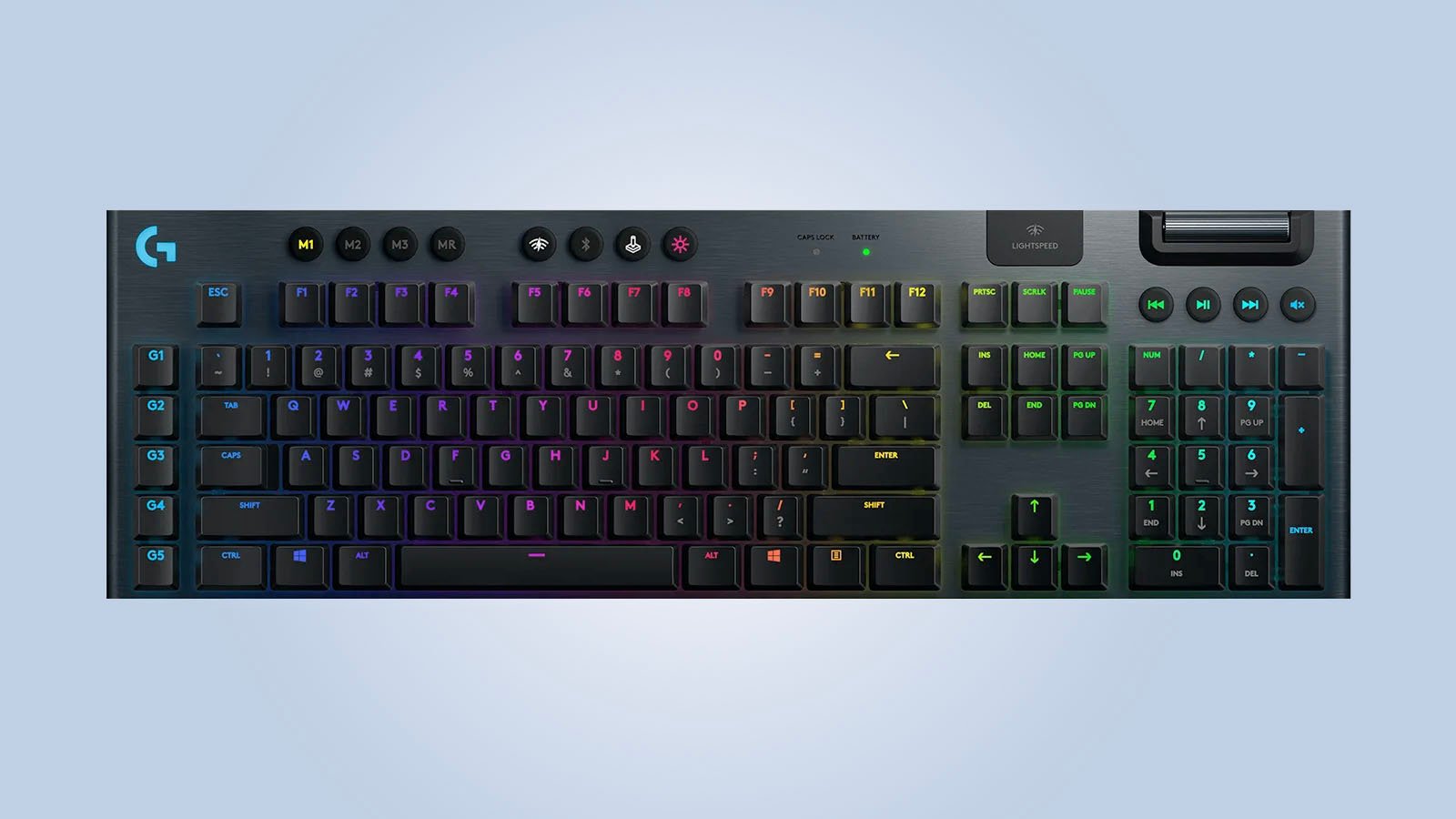 The Logitech G915 has everything I could want for a gaming rig. It's got a lovely aluminum alloy case that looks incredible on almost any desk setup, and the brushed metal not only keeps your gear looking nice by reducing fingerprints, it also evades the chintzy vibe of all-plastic options. The G915 is also surprisingly thin. The smaller drop makes it a bit less strenuous to use for long periods of time, and far too many gaming accessories are overly bulky.
Yes, you've got the RGB, as every gaming accessory seems to need. But if that's not your thing, you can change the rainbow aesthetic for something simpler. If you like changing up the atmosphere depending on if you're in work or play mode, there are even lighting settings you can switch between. Using the brightness soft key with keys 1 through 7 lets you toggle between presets, but keys 8 and 9 can be set to your own look.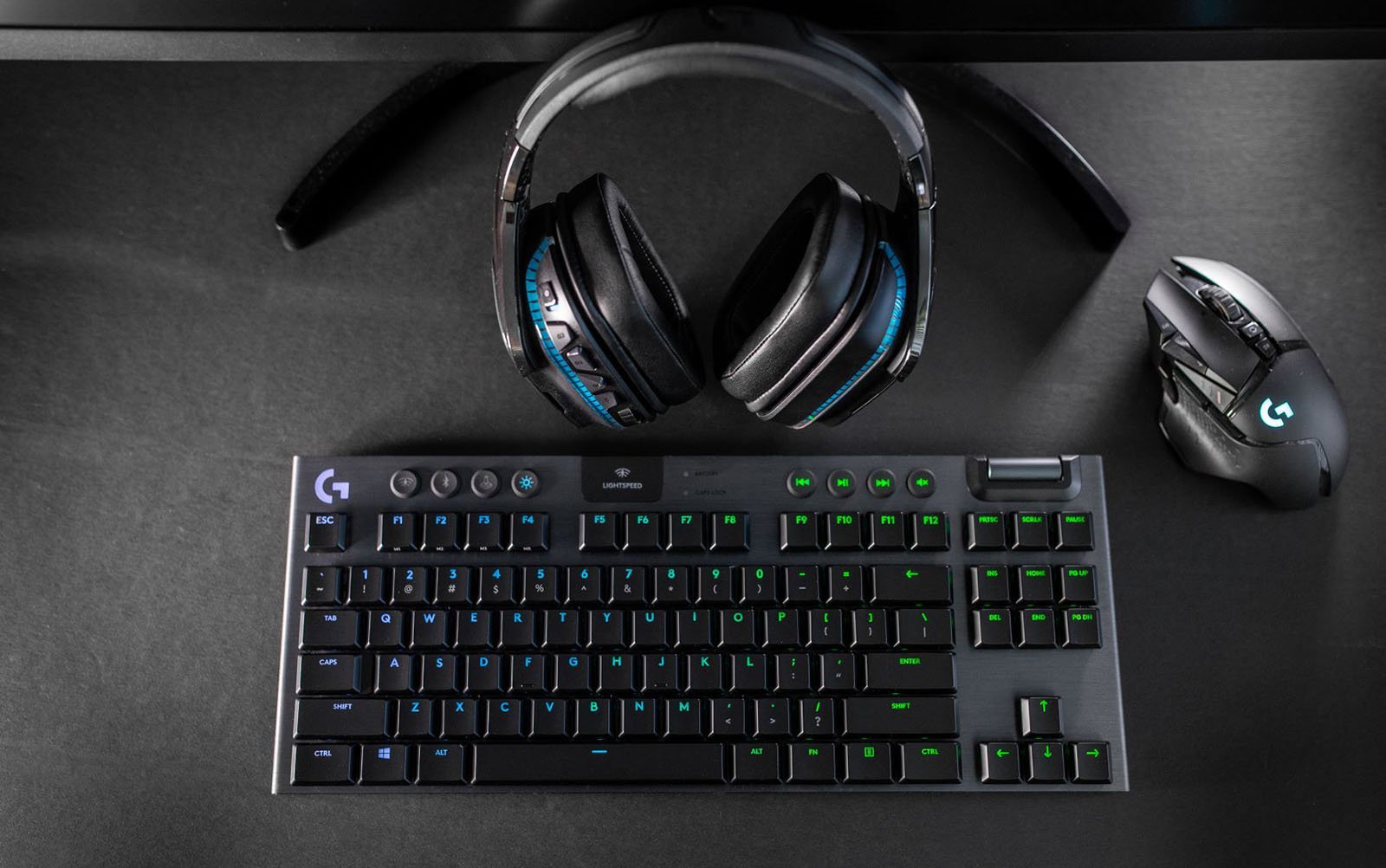 Speaking of shortcuts, the Logitech keyboard has its own "G Keys" that can be set to in-game or in-app keybinds, commands, and custom macros. You can make your own macro or download an option from another user. Using the M soft keys, you can swap between "G Key" profiles, meaning you can have up to 15 total G Key settings. I like having this option depending on whether I'm working, gaming, or maybe doing some editing on photos or videos. Finally, there's a literal Game Mode button that will disable unneeded keys. No more accidentally opening something in the middle of a session.
One major plus it has over many of its gaming keyboard counterparts? Wireless. Usually the option gets snubbed due to latency, but you can plug the G915 in as well. You can choose between three mechanical switch options as well, linear, tactile, or clicky. Overall, it has everything a player could possibly want in a keyboard.
The Logitech G915 will take your gaming to the next level for $249.
The Best Entry-Level Mechanical Keyboard: Royal Kludge RK61
You don't need the GMMK Pro to have a solid mechanical keyboard experience. Royal Kludge makes some excellent hot-swappable keyboards, meaning the switches—what gives a keyboard key its general feel—can be taken out and switched with ease rather than needing to be soldered in, with fewer bells and whistles. The Royal Kludge RK61 offers wireless options, too, which is a nice touch, especially for keeping a desk free of clutter.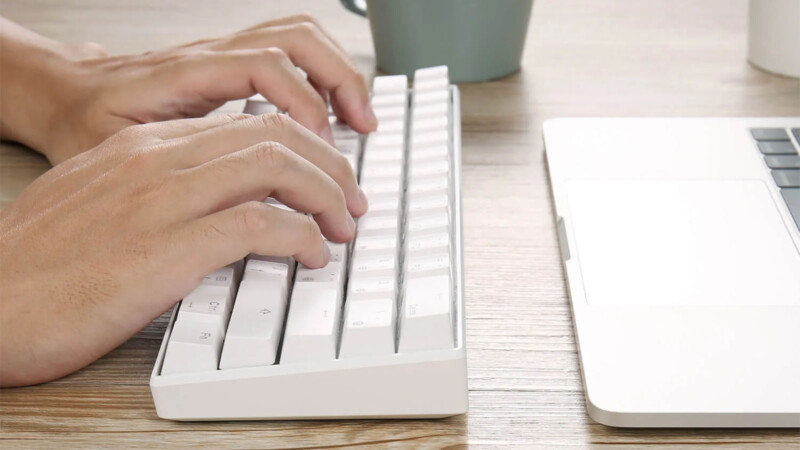 The RK61 is great, especially if you just want to try your hand(s) at a mechanical option to improve your typing or gaming experience. As a bonus, Royal Kludge has a few switch options, even though it's hot-swappable. There's the red, brown, and blue previously mentioned. These are pretty basic styles, but it's a good entry point to see what feels Right. The RK61, as an example, comes in black and white, and it has a wired and wireless version. This keyboard is what turned an everyday item into a new passion that brought joy in every type.
The wireless Royal Kludge RK61 costs $50.
The Best Low-Profile Keyboard: Logitech MX Keys Mini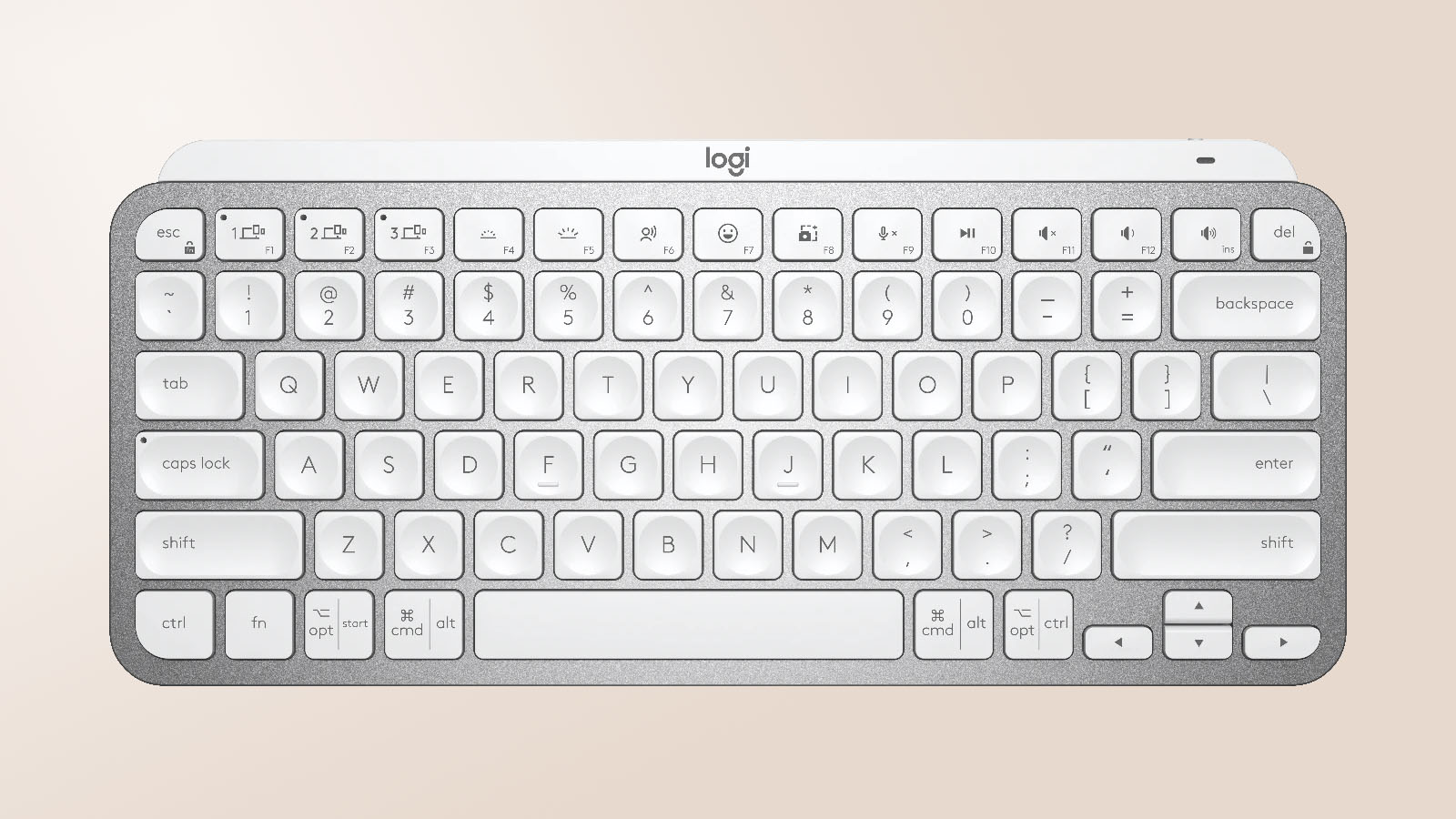 This "so thin that it's barely there" keyboard almost has to right to be this good. Despite its small size, the keys feel good to use and it looks quite nice. The Logitech MX Keys Mini looks similar to Apple's Magic Keyboard, but it's brand agnostic, and it comes in multiple options (two of those look like the Mac maker's Space Gray and Silver hardware in addition to an all-black and pink option).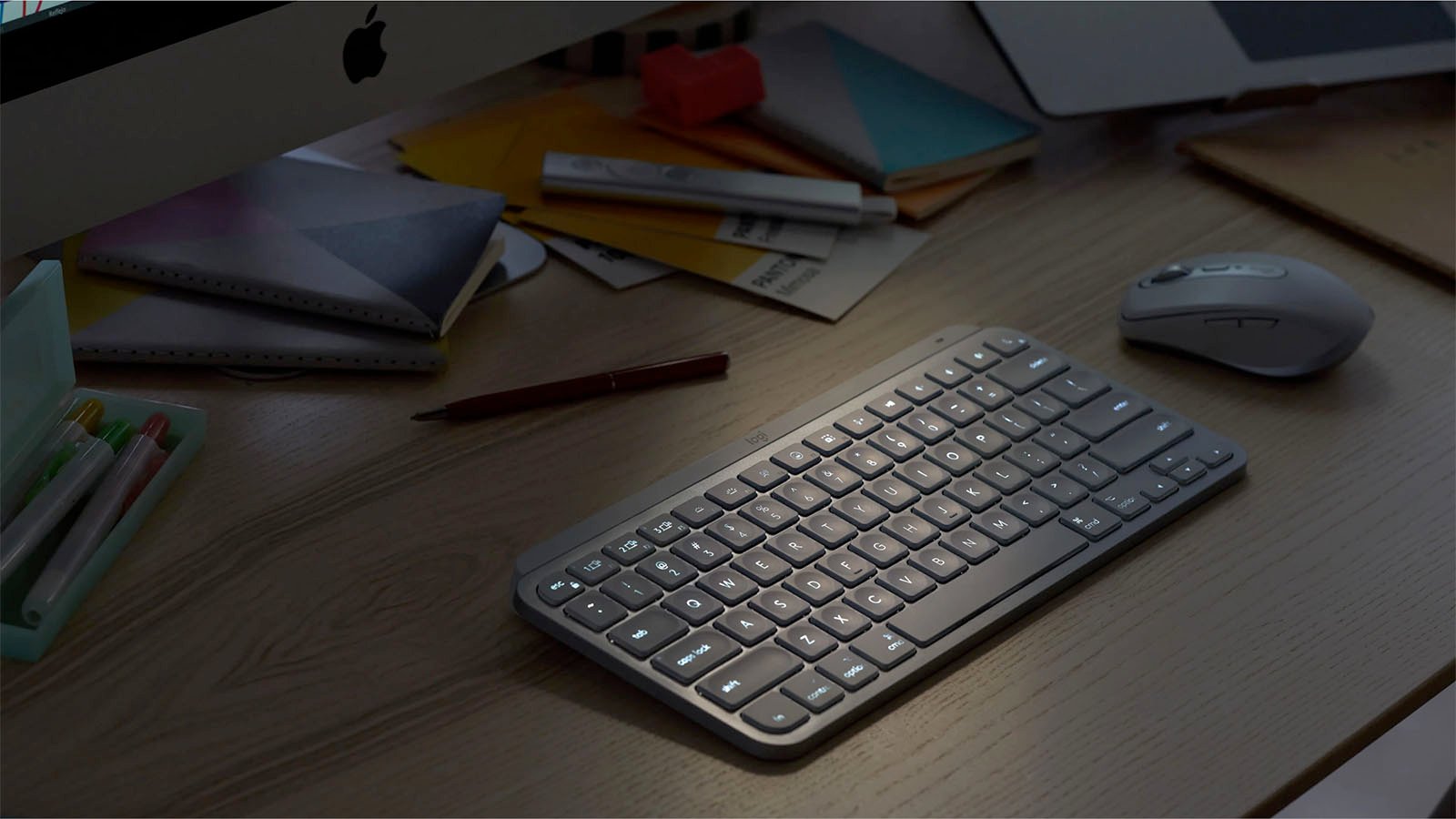 The MX Keys Mini is compact, hence the mini, uses Bluetooth, easy-to-use shortcut keys, and customizable keys. It's a perfect companion for a minimalist desk setup without sacrificing quality.
Logitech's MX Keys Mini costs $100. Unless you want the MX Keys Mini "for business," then it's an extra $20 and comes with a wireless USB dongle (which separately costs $15; yeah, we're confused too).