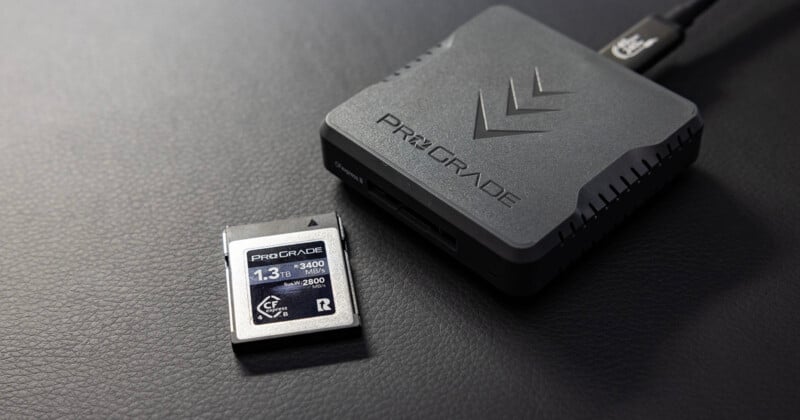 The new CFexpress 4.0 specification promises significantly faster transfer speeds than the cards currently on the market and while no camera can take advantage of it right now, your computer can, which makes a strong case for consolidating your storage hardware into a single media.
Announced at the end of August, CFexpress 4.0 is still a bit of a ways out for most memory card manufacturers. Not ProGrade Digital, however, who announced a new 1.3TB card and card reader just a few days later.
PetaPixel got its hands on this very new hardware and the initial tests are proving extremely impressive. The new memory card was able to basically triple the tested read speeds of our best-performing last-generation CFexpress cards and it was nearly four times faster when it comes to write speeds:
In fact, these speeds are so good that they would blow any non-Thunderbolt SSD out of the water and are the closest we've ever seen USB come to the performance of the OWC Envoy Pro FX and Lacie Rugged SSD that we tested in our best SSD guide.
This high performance is such that it allows photographers and filmmakers a new option: ditch portable, standalone SSDs and just use CFexpress and a reader. PetaPixel's Jordan Drake already does this with less-intensive video files, you can use them with the new iPhone 15 Pro (it treats the cards just like an SSD), and the speeds shown here illustrate that CFexpress 4.0 is fast enough to operate as a dedicated drive for even 8K workflows. With previous CFexpress, there just was not enough bandwidth for 8K ProRes 422 HQ files. Now? No problem.
But the good news doesn't stop there: editors won't even need to buy a new CFexpress 4.0 card to take advantage of this option.
The real advantage for CFexpress 4.0 and associated readers is the bandwidth of the USB 4.0 interface they are supported by. ProGrade's new $100 reader is set to work with its new cards, but the beauty of CFexpress is that it is backward compatible, meaning older CFexpress 2.0 cards can get a performance boost if they're plugged into a new reader.
For example, below are the testing numbers from a new Silver edition Lexar 512GB CFexpress card — the same model it announced in August — as processed through Lexar's latest-generation USB 3.2 card reader:
These are very, very good numbers by old metrics. So good, it would be poised to unseat the Sony TOUGH CFexpress Type B card that has been PetaPixel's recommendation for the last year.
But this card isn't even showing us its best because that USB 3.2 reader doesn't have the bandwidth to allow the card to really act on its true potential. Placing the Lexar card in ProGrade's new reader shows us what it is actually capable of: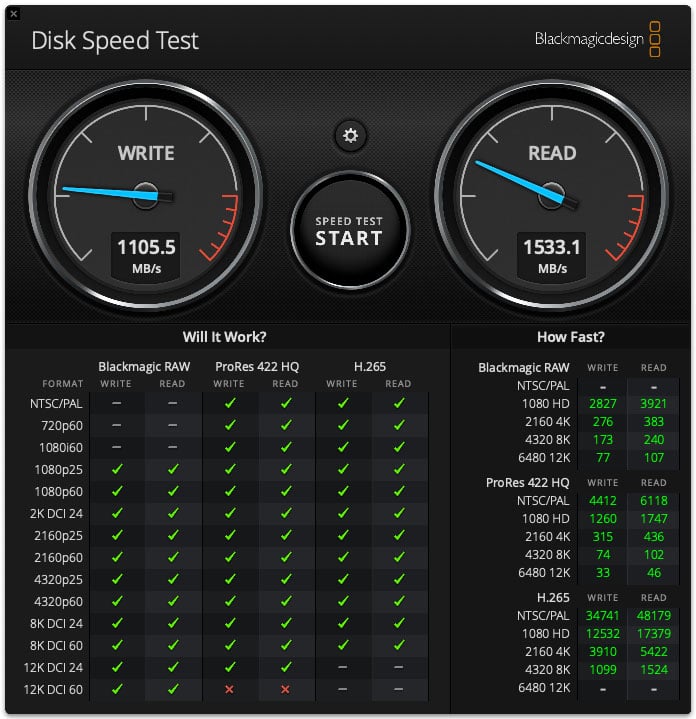 That is not a small increase: that represents about 300 MB/s faster write speeds and about 700 MB/s faster read speeds just by using a next-generation reader. Obviously, this means that PetaPixel will have to update its entire CFexpress memory card test and put together new numbers based on what is possible thanks to USB 4.0, so look forward to that in the near future.
The main takeaway here is that USB 4.0 CFexpress card readers are capable of letting current cards reach new heights. If photographers and filmmakers have CFexpress cards already, getting a $100 reader will provide them access to speeds that outpace all other USB 3.2 portable SSDs (USB 3.2 2×2 was not tested because it is so rare). Just make sure that the host computer is outfitted to support USB 4.0. While not every computer has it, it is far more common than USB 3.2 2×2: Apple has been shipping it in its devices for some time now.
Doing this will allow photographers and filmmakers to reduce the overall investment in memory and allow cards to perform double duty — record in the field and serve as a working drive in the office. That is what PetaPixel can only describe as a win.