The Nikon Zfc is one of the most beautiful modern mirrorless cameras, and I would argue, the classiest. You're all welcome because for years I hounded Nikon to recreate the famous Nikon FM/FE look in a digital format, and with the Zfc it finally happened. I'm taking all the credit.
Okay, maybe Nikon finally relented in order to shut me up, or maybe — and more likely — I wasn't even close to being the only one who desired such a camera to exist. Whatever the case, we got a start with the Zfc, and yet, the APS-C-sized sensor always felt like a toe-dip into the pool before the big full-frame cannonball.
Well, the pool is empty and every bystander is soaking wet now because we have the release of the $2,000 full-frame Nikon Zf. So let's take a dive into the deep end and see if it breathes fresh air into the vintage lineup. I want to mention that this is more of an initial review with a pre-production camera, but almost all of the camera's capabilities were testable.
Nikon Zf Hands-On: A Body Design from 1983 and 2023 Combined
The Nikon Zfc is remarkable to me because of just how closely it mimics the analog Nikon FM/FE style of body; in appearance and in hand they are very similar. The Zf does have to be physically larger though, and in doing so reminds me of the rather clunky Nikon Df body design. Fortunately, the actual control scheme and visual cues are very much like an oversized Zfc and not at all like the Nikon Df — a camera design I very much disliked.
Weighing in at 25 ounces (710 grams), the Zf is not overly heavy and has a small grip that provides solid purchase on the camera. If you desire an even larger handhold, SmallRig is creating an optional and exclusive metal grip for the Zf which still provides access to the memory card and battery.
The manual shutter control dial goes up to a maximum mechanical shutter speed of 1/8000 second. There is also a wonderful mode selector switch below this dial which not only cycles between the video and photo modes but also has a dedicated option to go to black and white mode. It remembers the last monochrome profile chosen, and I had no idea how much I would value a feature like this. I now want all camera manufacturers to do this from now on. Suffice it to say, I used this switch often.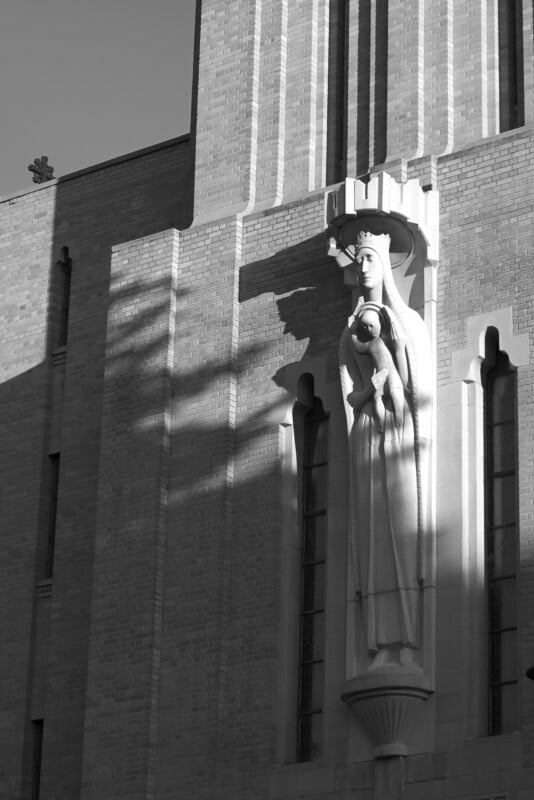 Keeping in true nostalgic fashion, the on/off switch is threaded to allow for the use of classic cable releases and soft press buttons. There is a very small LCD panel on the top of the camera pulled straight from the Zfc that gives you a rather dim reminder of your aperture setting while the camera is on. It's a perfectly reasonable addition, but not one I looked at very often.
You may notice a distinct lack of an AF joystick but fear not: the Zfc resurrects a feature long thought dead. The 2.1 million dots fully articulating LCD touch screen can now be used as an AF point selector. I find this feature very simple to use and I can customize precisely where my thumb placement will move the AF point. It's quick and effective, and I'm happy to see its return.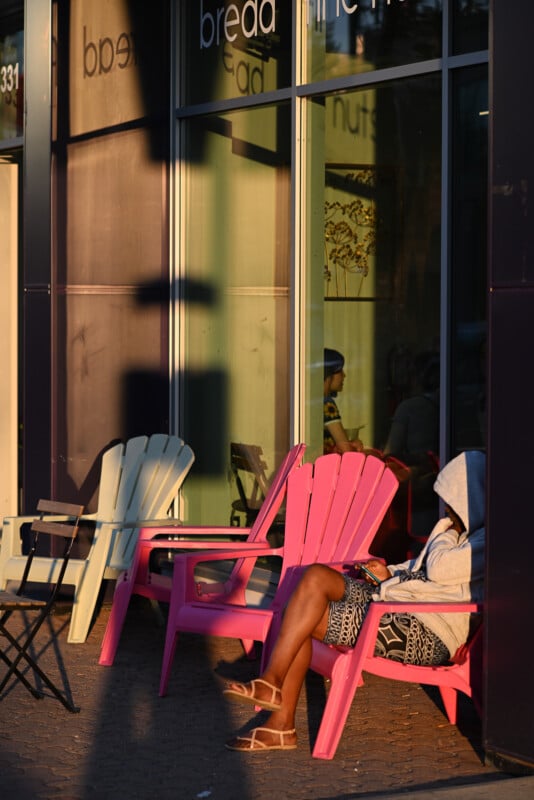 Rounding out the displays is the same EVF found on the Z6 II. This 3.69 million dot EVF is sharp and well-magnified but it does max out at 60 frames per second. This isn't the end of the world but sports and action shooters might be justifiably put off a little. Working pros and enthusiasts alike also value dual card slots. The Zf has them but you might be put off by having one UHS-II SD slot joined by one microSD slot. In practical terms, the transfer speeds and backup capabilities will be identical between the two formats but having two different card sizes is always going to be less convenient.
Nikon Zf Hands-On: Can a Retro Camera Also Be a Testbed for New Tech?
Maybe it's odd that Nikon is using the Zf to showcase some novel design features, or maybe it's totally awesome. Perhaps it's a little bit of both. Regardless, we get to see some features we've never seen before. The Zf may have some Z6 II internals like the exact same 24-megapixel sensor but the autofocus performance is far more Z8/Z9 than anything else from Nikon's line. We get the same subject detection modes and 3D tracking as the Z8/Z9, but we now get the ability to focus down to an impressive -10EV at f/1.2. I recall focusing in almost completely perceivable darkness without any delay.
But that's not all.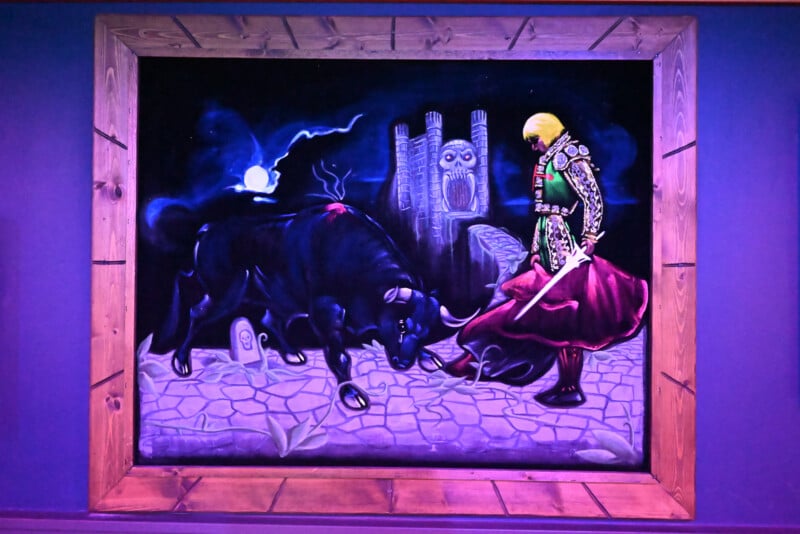 We now also get the first use of a multi-shot mode on a Nikon body. You can shoot up to 32 frames which the NX software suite can combine into a 96-megapixel image. The camera needs to be on a tripod and there is no motion correction to speak of, so as multi-shot modes go it's pretty basic, but it's new to Nikon.
That's still not all.
There is a new in-body-image-stabilization system (IBIS) which now delivers up to 8 stops of stability. However, most manufacturers' IBIS systems are designed to shift on multiple axes, yet always with the system calibrated for the center of the composition. But your subject isn't always central. Nikon has designed a novel system that can provide the best IBIS possible where your focusing point is set.
This is especially useful for wider angle fields of view where a subject can often be well away from the center. For example, why rotate the sensor against camera movement around the center of the image when you can instead rotate the axis around the subject in the corner? This new IBIS system works well in stills, but I should mention that it reverts to a more traditional -but still very effective- setup in video.
Wait, there's more!
Let's say you want to manually focus for the sheer fun of it, or even more likely, you are using your vintage analog glass on the Zf. The camera can now use its subject detection modes in manual focus, detecting the eye for example, and then automatically setting the magnified autofocus assist right to that point. It's seemingly minor touches like this that make the Zf a pleasure to use.
Nikon Zf Hands-On: The Nikon FM Never Shot Video
The Nikon Z6 II does have the ability to shoot high-quality H265 10-bit video, but only to an external recorder. The Zf might have an easily broken micro HDMI port, but it can record the same video internally. The Zf also shoots desirable 4K 60P video, albeit with a 1.5X crop. We have both a headphone jack and a mic port as well.
The Zf still has the fairly poor rolling shutter issues that the Z6 II has because of the same slow reading sensor. One could also argue that the retro control dials while being totally enjoyable for stills, are less intuitive for video. So, maybe the Zf isn't designed to be an ideal hybrid photo/video platform, but if you need the occasional high-quality video clip with reliable IBIS and AF performance, the Zf can pinch-hit when you need it too.
Nikon Zf: An Odd Camera — but in a Good Way
At first, I assumed the Zf would simply be a Nikon Z6 II in a nostalgic-looking body. The earlier Nikon Zfc essentially did this by simply reskinning a Nikon Z50. Instead, we get a retro-inspired camera with infinitely better ergonomics than the previous Nikon Df attempt but we also get a camera that showcases a whole new host of features never before seen on other Nikon bodies, including the higher-ups.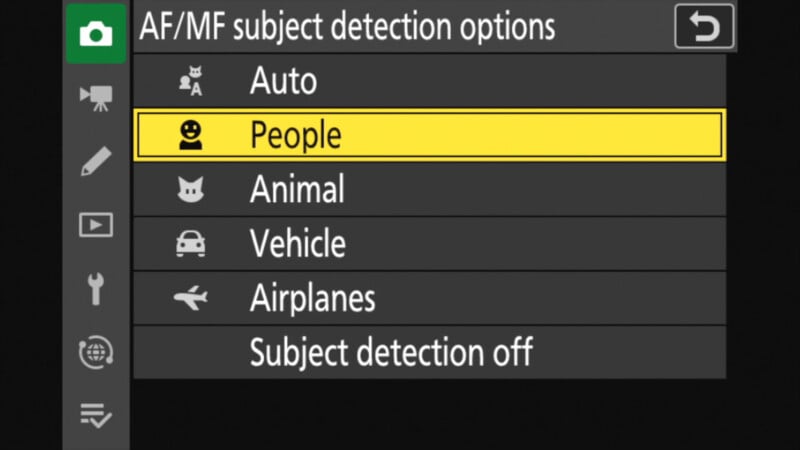 Most certainly, the Zf is debuting features that will be present in future upgrades to the Z6 II and Z7 II. I wouldn't look at it as merely a successor to the Z6 II, but rather a feature-rich camera with some quirks that provide the most enjoyable shooting experience overall. It may look like a blast from the past, but inside it is a real glimpse into the future for Nikon.