Without skipping a beat, DJI has released its newest Osmo Action camera. This year's big advancement is its larger-sized sensor which is 25% bigger than last year's model. Is it enough reason to go with the new Osmo Action 4? I think yes.
DJI Osmo Action 4: Design and Build Quality
Last year's Osmo Action 3 was a return to form in mimicking GoPro's design after a more inventive take on action cameras with the Action 2 in 2021. This year's Osmo Action 4 is a gentle refinement of the previous model and sticks to the more time-proven design.
The Osmo Action 4 weighs 5.1 ounces (145 grams) and measures 2.8 inches wide by 1.7 inches tall by 1.3 inches deep (70.5 x 44.2 x 32.8 millimeters), including the lens protrusion. If you've held a GoPro-style action camera within the past five or so years, you already have a good idea of what this one feels like in the hand. The few grams and millimeters differences, give or take, are likely not going to be dealbreakers for most.
One of the best features of the Action 4, and probably the defining difference when compared to a GoPro, is the magnetic attachment system. Being able to slap on, remove, swap out, rotate, and move on with ease is 100% gold. There are a couple of safety pincers, one of each end, that double up the security and not once have I experienced anything resembling a problem with its hold.
Another one of my favorite features is that the 1.4-inch front screen is actually a touchscreen. I use this so much while vlogging to switch frame rates or stabilization modes or to adjust some settings like the EV or the ISO. If I mount the camera to something where the back screen isn't easily accessible, for example, the moonroof of my car while I'm sitting in the driver's seat, it's also so much faster than fumbling with an app to make these changes.
The rear touchscreen is 2.5 inches and spans nearly the entire backside of the camera. The touch sensitivity on both screens has been a positive experience where it's rare that I have to retap or drag my finger multiple times to achieve the function I'm after. Action cameras have come a long way in this regard.
The biggest changes stepping up from the Action 3 to the Action 4 are on the inside, but there are still some other noticeable tweaks to the design.
For one, the battery door of the newer Action 4 is crazy hard to open now. I would have thought after months of use, I'd have figured out the trick to it. But no, it's just tough. Considering that it makes sure nothing gets fried when submerged in water, I can let this pass.
The power button is also different in that it now makes an audible click when pressed. If you wear gloves and there's no noticeable tactile feedback, I'm sure that means a lot. I also find it easier to press in and hold it there, which is how the device is turned off. With the Action 3, I'd squeeze fairly hard for a few seconds but my fingers would sometimes slip that hold before the shut off initiated, and I'd have to start over.
The record button is also a bit more clicky too. Strangely enough, the record button's accent color has changed from orange on the Action 3 to red on the Action 4, but the new red is actually a downgrade as it's much harder to see in low light compared to the old orange.
Battery life was one of the astonishing specs of the Action 3, and it continues in the Action 4. One battery was all that was needed when I wanted to film a 4K vlog with various frame rates and stabilization modes over the course of a few hours, and that's with no care taken to prolong its life. Shooting time-lapses was the fastest way to drain the battery in my experience, so I'd recommend backups or an external power source if that's the primary objective for the day.
For testing the battery life, I recorded continuously with just about the most maxed-out standard video settings possible on the Action 4. In 4K 60p with a 4:3 aspect ratio and 10-bit D-Log enabled along with RockSteady+ stabilization, I was able to record for 77 minutes continuously before a fully charged battery depleted. It took 43 minutes until I got the overheating warning, but this didn't stop the recording. All it does is not allow the display to be on for longer than three seconds.
An Aside: Required Activation and Sideloading
When you buy the Action 4, you would think it's now yours to do with as you wish from the moment you open the box. Unfortunately, that's not true. Believe it or not, DJI demands that the camera be activated through an Android or iOS app or it will be completely bricked after five cycles of powering on and powering off. You won't be able to use the camera at all until it pairs through the app.
This is a ridiculous practice that needs to end, but it gets worse.
It was brought to my attention in a PetaPixel Podcast episode last month that Android users actually need to sideload DJI's official app and that there are no legitimate DJI apps on the Google Play Store. So on top of DJI not actually giving paying customers a device that works freely out of the box, Android users also have to do some seedy business installing who knows what on smartphones that are chock full of their private information. It's basically holding a camera you paid a lot of money for hostage until you open up your Android smartphone to whatever DJI fancies.
Don't get me wrong, the activation process is very simple, but it's completely unnecessary that it's a hard requirement. And when the forced activation is paired with forced sketchy sideloading, it's a lot to ask. DJI needs to do better here when absolutely nothing is preventing the company from being more consumer-friendly.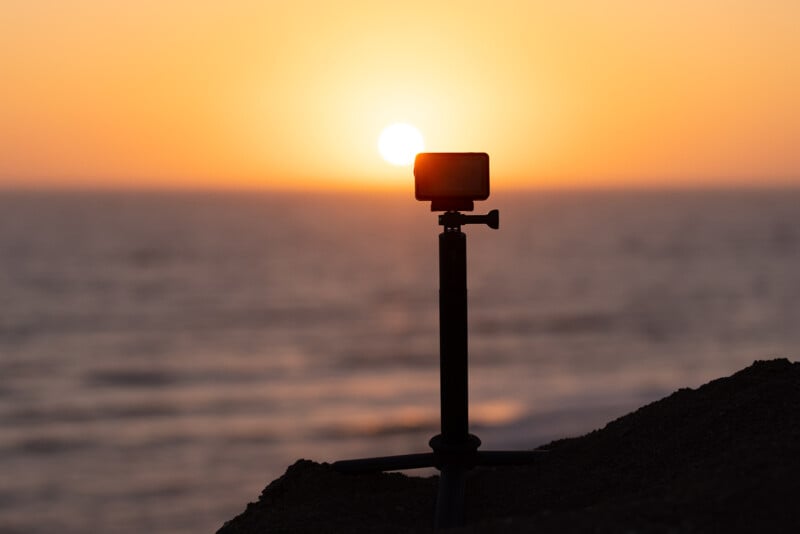 DJI Osmo Action 4: Image Quality
Inside the Action 4 is the marquee feature: a Type 1/1.3-inch sensor that can record video up to 4K 120p. It's more than 25% larger than the Type 1/1.7-inch sensor inside the Action 3 and larger yet compared to the Type 1/1.9-inch sensor of the GoPro Hero12. For stills shooting, the camera captures 10-megapixel images in JPEG or JPEG+RAW.
The ISO range for stills and video is 100 to 12,800, with about half the range holding up really well without concerning yourself over it too much. Above ISO 1,600, heavier noise should be expected in shadow areas, but remarkably, the output retains a lot of detail that isn't being smeared to oblivion.
I appreciate the Action 4 allowing for greater customization with the video image quality by now adding noise reduction and sharpness levels. Previously, the Action 3 only had an on/off toggle for "Enhanced Image Quality." The ISO test video above was shot with both of these settings at the lowest levels they will go.
Below is a sample video using various frame rates conformed to a 30p project. While the Action 4 is capable of recording in 10-bit D-Log M, this one was shot in the "Normal" color profile to show the capabilities of the camera rather than the capabilities of me in an editor.
RAW photo files have quite a bit of latitude in post-processing. The ability to recover shadows was much better than I would have assumed for this size of sensor. Raising the shadows does add some noise, but it's become nearly trivial at this point with Adobe Camera Raw's new AI-powered denoiser. The important thing is that the details largely remain, and it would take a lot to actually clip information when exposing for the highlights in raw.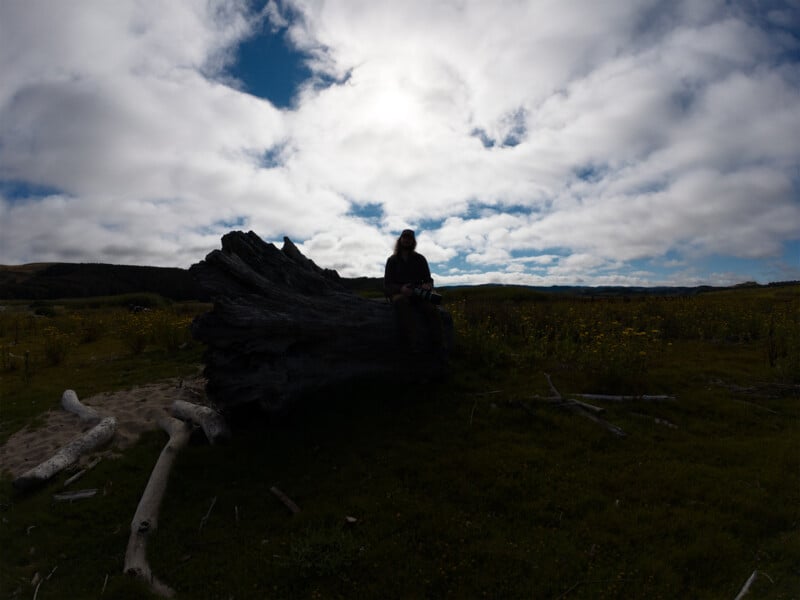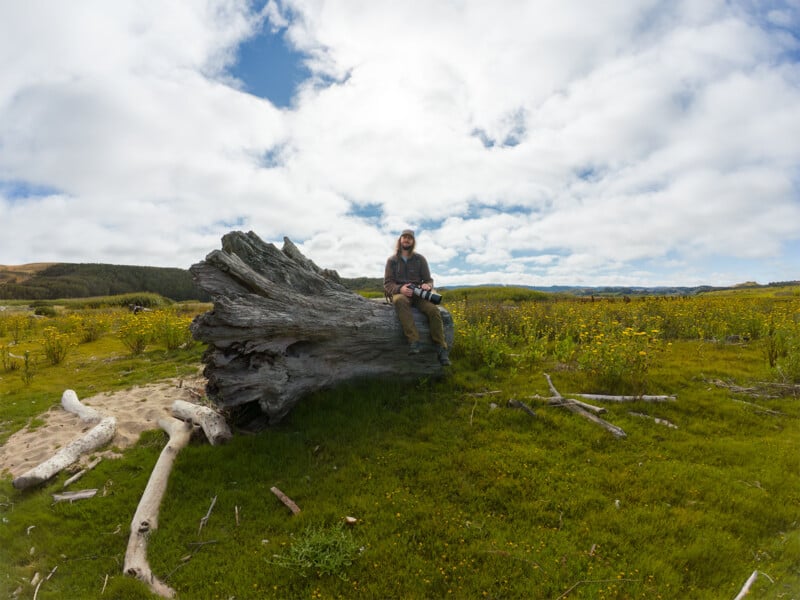 One thing that can be annoying about the Action 4, which applies to all action cameras with a fixed focus, is its inability to shoot anything close up. The small form factor begs for it to get into all sorts of interesting places and shoot similarly small-sized things. The problem it gets into is that the close focus distance is 0.4 meters, and the super-wide lens can't get close enough to small objects to show them with any detail. DJI made its own Macro Lens for the Action 2, but since then hasn't provided customers with a way to get closer.
The sound quality is pretty good until it isn't. That is to say, if all conditions are favorable to have good audio, like the first sample video above, you'll have good audio. But it can be tough to discern sometimes if you are picking up good audio, for example, while being in proximity to loud background noise or on a windy day.
Frustratingly, DJI gives the user absolutely no guidance since it doesn't include a mic meter on the display. On GoPros, there's only a mic meter displayed when the camera is housed inside an $80 Media Mod. DJI has the opportunity to very easily one-up its biggest competitor by showing it without any expensive accessories, but it isn't taking advantage. Having no mic meter got me in trouble with the vlog embedded below where wind blew out most of my audio and I needed to recover what I could with a pricey AI tool. At the time of recording, I was not alerted that it may be causing an issue.
Another improvement that I would like to see is the ability to disable stabilization in hyperlapse mode. When the camera is fixed to something that is moving, and that moving thing is also in the shot, the hyperlapse footage looks awful because of the stabilization. The framing moves around and the shots are ruined. The only way to make a good-looking hyper-lapse in these situations with the Action 4 is to record real-time video with no stabilization enabled and speed it up later.
DJI Osmo Action 4: Bigger Is Better
What can I say? The sensor upgrade this year really produces some great-looking videos. It's wonderful to have a small, bring-everywhere, do-anything camera, but it's meaningless unless the picture quality is good. The DJI Osmo Action 4 has been going with me everywhere since it launched, not only because it's so packable and easy to mount, but because the results are fantastic.
Are There Alternatives?
This month, GoPro announced the Hero12 Black, which can record in a higher 5.3K resolution compared to the Action 4's 4K. It also has new HDR video options, something that DJI removed from the Osmo Action this year. The near-square GoPro sensor enables a unique 8:7 aspect ratio, which is great for reframing content from landscape to portrait or vice versa, depending on the showcase platform.
At release, GoPro said the Hero12 has up to two times better battery life than the Hero11, which would bring it more in line with the DJI. In PetaPixel's review, however, Chris Niccolls said it was more like a 10-to-15% improvement.
While the Hero11 Black's launch price was $500, this year's Hero12 Black is debuting at $400. On the flip side, DJI increased the launch price to $400 for the Action 4 this year, up from $330 for the Action 3 last year.
Now that the latest models from each company are the same price, it makes a decision between the two even more difficult.
Should You Buy It?
Yes. I bring the DJI Osmo Action 4 everywhere, and you should too.